Robert Adam's proposal for new £20m Athlone House will go to appeal
A row over plans for one of the largest new houses in London, a neo-classical mansion designed by Robert Adam in Hampstead, will be played on in public after a planning appeal was lodged.
Back in April, the scheme – which involves the demolition of the "Jacobethan-style" Athlone House and its replacement with a far larger 50,000 sq ft copper-domed dwelling for a mystery Middle Eastern billionaire – was knocked back by Camden Council.
However, despite this setback and the fact that all 540 responses made to the council over the application objected to the plans including the likes of English Heritage and the Victorian Society, developer Athlone House Ltd is now planning to field 10 expert witnesses at planning inquiry early next year.
"The proposed building would make an outstanding contribution to the quality of the area and its architectural heritage that would be particularly appropriate to its setting," a statement from the developer said.
"The appeal should be allowed to enable this important and beneficial development to proceed without delay."
Reacting to news of the inquiry, Jeremy Wright, a chartered engineer and member of locals' group the Athlone House Working Group, accused the owners of trying to price out the opposition by using so many expert witnesses and pushing for a two week inquiry.
"It's a typical developers' trick of trying to price everyone else out of the inquiry," he said. "If you have unlimited money, you can steamroller any private objections."
He added that the group was hopeful that rules on Metropolitan Open Land would make it impossible for Athlone House to be replaced by something larger.
Adam's palatial Bath stone proposal, estimated to cost at least £20 million, would be visible from Parliament Hill as well as Hampstead Heath and is said to have been inspired by the work of Prussian architect Karl Friedrich Schinkel and Scottish architect Alexander 'Greek' Thomson.
However, it was less flatteringly compared by one critic to a "cross between a Stalinist palace and a Victorian lunatic asylum".
It would include a ballroom, a number of outbuildings and the carving out of a huge basement carpark, a feature which has enraged local groups including the Highgate Society concerned about such underground excavation.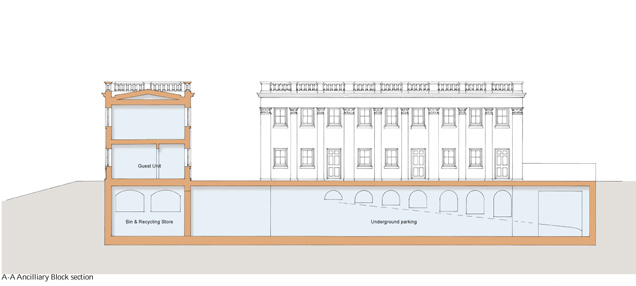 Source: Robert Adam Architects
The society recently complained that it could not afford the legal costs to continue fighting Adam's approved plans to redevelop the nearby Witanhurst, the largest private house in London not owned by a member of the royal family.
The original Athlone House was completed in 1871 and was described by Pevsner in Buildings of England as an "ambitious Victorian villa".