Stanton Williams brings its unique approach to a wide range of sectors
"It's such a privilege to work with students," says Stanton Williams's Paul Williams of the Central Saint Martins (CSM) campus at King's Cross. "They teach us so much with their enthusiasm, freshness and energy. I'm not sure we teach them anything!"
Both Williams and co-founding director Alan Stanton have clearly relished the project, which, along with the Sainsbury Laboratory at Cambridge University, has greatly raised the practice's profile with a flurry of awards and a surge in enquiries. The practice won Education Architect of the Year in the 2011 Building Design Awards, and the laboratory is shortlisted for this year's Stirling Prize.
Stanton Williams already had an enviable track record, built up steadily over 27 years across a variety of sectors and with a particular expertise in the arts. Notable projects have included Compton Verney art gallery in Warwickshire, the Millennium Seed Bank at Wakehurst Place and several boutiques for Issey Miyake. But it's now, despite the recession, that the practice is enjoying a high point, growing to a record 60 staff and with substantial projects in the UK, Russia, France and Germany.
"The one thing we've never done is produce formulaic architecture," says Williams. "We've never wanted to be typecast or sector driven. We want to work with interesting clients with ambitions for creating great buildings."
In its two very different recent education projects of CSM and Sainsbury, the practice was lucky enough to find such enlightened clients and enjoy the creative collaboration that is so central to their practice.
"The great thing about being an architect is that every building is different," says Stanton. "We're being educated by the client, and we're educating them in a dialogue about materials and building. We're always looking to produce something that's perfect for them and hopefully exceeds their expectations."
In higher education, says Williams, a sense of community and shared space is fundamental. The practice worked hard to include this in both buildings, encouraging unscheduled discussion between research scientists at the laboratory and, at CSM, encounters between students from different courses.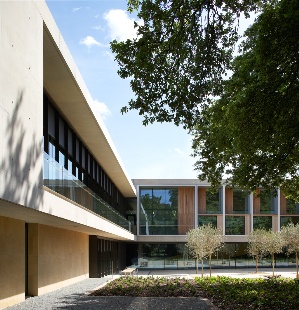 Source: Hufton&Crow
"Balconies, squares, gardens, coffee points — a lot of learning goes on in these places," he says. "We're always plotting social spaces and trying to ambush people into having conversations."
At the laboratory a logical, fluid space was created with a direct relationship to the botanic garden in which it is set. "We wanted a building that was very clear and naturally flowed," says Stanton, adding that the client has found that the building works well as a recruitment tool.
At CSM, its most ambitious project, the key was flexibility, aiming to create a "stage for transformation" within the listed Granary and transit sheds and the new extension.
"It'll change radically, depending on the teaching and students' demands," says Williams. "It'll never be finished."
The practice has planning permission for another plum HE project, an arts centre extension to Lincoln College at Oxford, the kind of sensitive setting it relishes. This will be a little jewel, says Williams. "I like to think the Stanton Williams DNA is in there — in the detailing and the materials."
It is also designing student residences in London, yet HE work is just one of the sectors it is involved in, with other projects ranging in scale from exhibition design for the Royal Academy's Bronze show, to the Eton Manor sports facilities for the 2012 Olympics, through to the €49 million Musée d'Art de Nantes. Two substantial commercial residential projects in the capital will also keep the practice busy, but it is equally engaged by more modest work such as the Corten-clad Hackney Marshes sports centre and the proposed Britten Pears archive in Aldeburgh. "We apply the same principles to all our projects and bring the same values to them," says Stanton.
They particularly enjoy working with artists, including Susanna Heron and William Pye, who both contributed to the Sainsbury Laboratory.
"Having them in the studio brings in a different dialogue and thinking process," says Williams. "This arts thread keeps the studio buoyant. We'd work with artists on every project we could given the chance."
With the studio thriving, they would love to expand their wide spread of work further. Williams would relish designing a hotel, and Stanton a school.
"Our reputation has grown. People see we are doing good, large-scale buildings and can do it successfully," says Stanton.
In their own words
What education build-ing do you most admire?
Victorian board schools — great daylighting and generosity of space; Arne Jacobsen's St Catherine's College Oxford.
What has been your most significant education project?
The University of the Arts London campus for Central Saint Martins at King's Cross and the Sainsbury Laboratory, University of Cambridge.
What would be your dream higher education commission?
We are always on the lookout for aspirational projects and clients that value dialogue.
What's the biggest challenge in the sector?
We enjoy the challenges of working in the HE sector, often resolving conflicting requirements and sometimes working within restricted budgets and tight programmes. Necessity is often the mother of invention.