Johnny Manns: raising the bar for student housing
Urbanest's development director, Johnny Manns, says there is no reason why student accommodation should not be of a high standard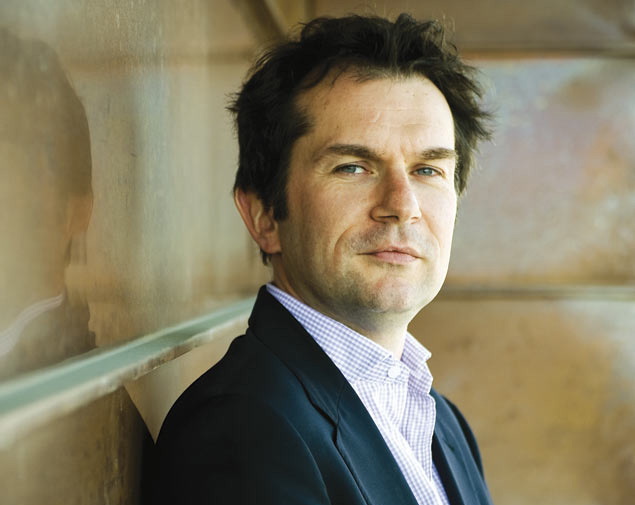 Source: Ed Tyler
If you were a deep-pocketed student coming to a London university, developer Johnny Manns of student housing specialist Urbanest would probably be your hero. The smart housing he commissioned in Hoxton is a world away from the traditionally grotty student accommodation. This building will soon be supplemented by two developments in the capital with more, envisages Urbanest, to follow in other major European cities.
"Student housing is never going to deliver great public architecture," Manns says, "but there is no reason why it shouldn't stand with good quality residential and public buildings."
While Urbanest is relatively new to the UK market (it has built in Australia), Manns had specialised in student housing for some years before joining Urbanest as development director. He worked for Unite, the country's biggest provider of student housing before joining another developer Hive, where he worked for some four years. His colleagues there included Angus Kearin, now a fellow director at Urbanest.
"I wanted to focus even more on Zone 1 [the central zone on London's transport system]," he says of his time at Hive. "I wanted to broaden the range of product types, from shared flats to include studios and twins. And I wanted to up the bar in terms of the architecture and the specification."
While at Hive he commissioned Feilden Clegg Bradley Studios to design the Hoxton building. This mix of studio flats and shared apartments was bought by Urbanest as part of its plans to establish a European network.
Urbanest was set up by Nick Porter, who founded Unite, with the intention of becoming a worldwide operation by concentrating on cities that attract overseas students. London was an obvious target. Porter took on Manns and Kearin, and with Hive a victim of the recession bought the Hoxton project. For Manns it is a pretty good solution.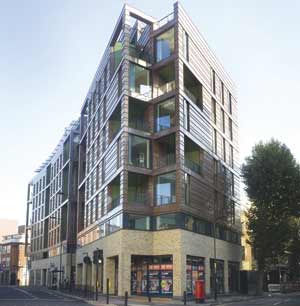 Source: Feilden Clegg Bradley
"There is always a bit of disappointment; Hive was the brand we created," he says. "But we are carrying forward almost all of the principles. One key difference is that at Hive there was the intention to always be at the premium end, offering things like studio flats."
In the current market, Urbanest believes there will be a limited demand for those flats, costing over £300 a week to rent. Instead it will concentrate on cluster flats, that cost less per person to rent. "But," says Manns, "in terms of architectural integrity, and energy efficiency, we are as we were with Hive. It has been a very positive parachute landing."
The FCB-designed building embodies this up-front investment in quality. Located to the north of Old Street in Hoxton, it has a distinctive copper-clad elevation. Internally, a common room is in prime position, on the roof, leading to a terrace. Corridors vary in width so that they do not seem endless. Rooms are well planned, with plentiful storage, and use high quality materials to reduce maintenance costs.
Urbanest has two more developments in the pipeline. The first will go on site in September at the Minories, in the City of London, designed by BFLS (formerly Hamilton Architects).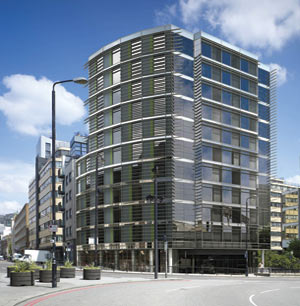 Source: Miller Hare/BFLS
In keeping with the corporate surroundings, it has a fairly "office" type of appearance, with lots of reflective glass. In contrast, the second project, soon to be submitted for planning, eschews this look for a generous use of masonry. That is because it will include a tower, and Manns believes it is important to differentiate between the language of a residential tower and a commercial tower. Designed by Glenn Howells, the building will sit within Argent's development at King's Cross, and provide rooms for 600-700 students. Most of the building will be 13 storeys high, with the tower element 27. There will be deep reveals to the windows, and open spaces within the building.
"It's going to have some great architecture," says Manns.
Urbanest's long-term aspiration is to build around 3,000 beds for students in London. Its appeal will be central locations and the reassurance of dealing with a reputable student housing operator.
"Management is a very significant component that underpins value," Manns says. And, of course, decent architecture helps too.