John Pawson: master of minimalism
At 61, minimalist architect John Pawson is about to take centre stage thanks to two projects for the Design Museum.
Do architects grow old? They are still considered youthful at an age when others retire. The flip-side is that glory comes late. Take John Pawson, who at 61 is having his moment in the sun.
Pawson has long enjoyed measurable fame thanks to A-list clients and a "minimalist" label that makes great newspaper fodder. But things have moved up a notch: There's a major exhibition at the Design Museum plus the transformation of the Commonwealth Institute into a new home for the museum and a publication about his eponymous architectural practice. The order book is crammed with diverse projects, including chapels, ballet sets, hotels and museums. "There are 17 new houses on the list. It sounds a bit showy-offy, but it's not meant to be," Pawson says.
For someone half his age this workload would be daunting, and there's a sense of trepidation at the effort involved. "You suddenly realise that you're not 30, you're 61," Pawson laments. "And you don't necessarily have the same energy when in fact you need more. Because it's at 50 or 60 when architects start getting the buildings."
His compulsion for editing and reduction until perfection is achieved means each project is a labour of love. "It's very difficult to say no and I'm obsessional in the extreme. I can't work nine to five, which would be much healthier."
This disarming honesty reinforces how Pawson confounds expectations. Where you might expect a chilly aesthete, there's an Old Etonian with the easy charm of a sexagenarian Hugh Grant. Design Museum director Deyan Sudjic recalls being caught off-guard when first visiting Pawson's home in the 1980s: "It was a bit of shock". There were bare walls and "just a table at which sat Claudio Silvestrin, not saying a word". What really impressed Sudjic, after all this build-up, was that Pawson "wasn't a fanatic, or a monk".
Pawson made his name in high-end interiors, with schemes such as Calvin Klein's Manhattan flagship store and the Hong Kong airport lounge for Cathay Pacific. While the scope of work has expanded, interiors remain key.
"You get architects who aren't interested in interiors. It's almost unbelievable," he says. "You can't design a building without understanding what's going on inside." However, new-build schemes present additional challenges: "They sort out the men from the boys".
Commissions such as the Sackler Crossing at Kew Gardens and Novy Dvur Monastery in the Czech Republic have cemented Pawson's reputation as a skilled and sensitive architect.
"In the early days, there was a lingering suspicion that John was a decorator, not an architect," Sudjic states. "John has decisively demonstrated that this is not true."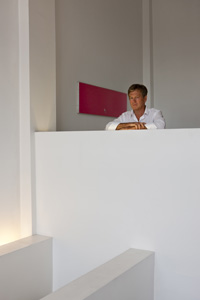 Source: Gareth Gardner
Pawson continues to work with the Novy Dvur monks, recently completing a guesthouse and now working on a chapel and workshop. Indeed, ecclesiastical jobs keep coming. There are plans to refurbish the 1,000 year-old St Moritz Church in the Bavarian town of Augsburg, Germany. These projects reflect an international portfolio, with work spread as far as the USA and Japan. Novy Dvur remains his "dream commission", but he still has ambitions – "it would be quite nice to do a tower" – having worked on aborted plans for a 42-storey skyscraper in San Francisco.
The 25-strong studio's biggest challenge to date is the Commonwealth Institute revamp, part of the wider "Parabola" redevelopment of the site. Pawson remains minimalist when explaining his plans for the RMJM-designed grade II* listed building, but says he's excited about opening up the interior, providing views of the famous swooping roof, even from the basement.
"The one thing I want is when you enter the space you can see the roof and different levels, so you'll be able to orientate yourself completely." Another aim is to open up the facade. "One of the big problems is that it's opaque. We are hoping to have a little bit of transparency," Pawson says.
Further insight can be perhaps gained from his plans for the Design Museum retrospective. "Architectural exhibitions are really challenging," he admits. "It's not about showing people stuff, but about trying to explain something and letting people have an experience." Many of his projects are private houses, which means that the general public can't visit them. "There's nothing like walking into the space. You do notice a reaction on people's faces, they feel something."
At the heart of the Plain Space show is a full-sized space, the first time a 1:1 scale architectural installation has been constructed within the museum. Pawson hopes it will challenge perceptions about minimalism. "It's very easy to misunderstand the work. People see the photographs and think it's all about nothing. They think it's easy to produce these rooms and places," he says. The exhibition will be a "promenade" of models, drawings, photos, writing and material samples that explain his design methodology.
Key to that process is physical models. "The way he really designs is to make models that he can photograph to test ideas and how spaces and interiors will work," explains Sudjic.
Sketches are useful, but computer renders are open to misinterpretation and "too final", Pawson says. He is unequivocal: "There is no project without a model." Further insight can be gained from visiting completed schemes. "It's the only way to realise how and why they work."
He concludes by offering reassurance to the first-time minimalist. "I'm very lucky that so far we haven't had an unsuccessful project," Pawson claims. "I try to tell clients that they should relax a bit, as they [his projects] have all worked before."
JOHN PAWSON PLAIN SPACE
Pawson's exhibition takes place at the Design Museum from September 22 to January 30; www.designmuseum.org.
The accompanying book, by Alison Morris, is published by Phaidon price £45.