High on property: The Shard's "urban explorers"
A band of young "urban explorers" get their kicks from breaking into and secretly scaling buildings such as the Shard. Could yours be next?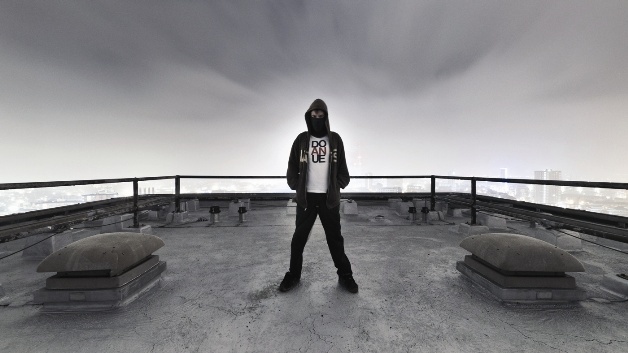 Source: London Consolidation Crew
Last Thursday, a select group gathered on the viewing deck of Europe's tallest building. Launching Irvine Sellar's Shard, the privileged party-goers marvelled at the panoramic views of London from 1,000 ft up, on the 72nd floor of the skyscraper.
But they are not the first people to enjoy these awe-inspiring vistas. They were first seen by the public in a tiny gallery in London's Covent Garden in May, as part of an exhibition of dramatic cityscapes (pictured, below): London's skyline lit up at night with silhouetted figures appearing to leap off the tops of soaring tower blocks. Many of the photos were taken illegally from the Shard's summit.
Subvercity" was hosted by a group of so-called urban explorers known as the London Consolidation Crew. This ever-expanding network of individuals share a passion for exploring buildings and places where nobody normally goes.
They have a penchant for towers. On Boxing Day 2010, they broke into the Shard's London Bridge site and climbed the stairwell at the building's core — then only 30 storeys high — before hoisting themselves up ladders to the peak of the 72-storey, 1,000 ft-high tower. Many of the images exhibited were taken from this frightening vantage point.
The crew have scaled St Paul's Cathedral; the Heron Tower in the City; Battersea Power Station; the British Museum; King's Reach Tower on the south bank of the Thames; the Strata tower at Elephant and Castle; the derelict Cane Hill Hospital in Croydon; and Southwark Towers, the 24-storey office block the Shard has replaced.
And they have entered hundreds of disused sites — collieries, mental hospitals, military bases, to name a few — in England, Poland, Belgium and Germany. Their adventures involve trespassing on private land, so their targets are kept secret.
News that the group had climbed the Shard only broke this April — more than a year after the escapade. Property Week met the group's unofficial leader, Bradley Garrett, a 31-year-old American with a University of London PhD, at the launch of the exhibition, just weeks after the Sun screamed "Shard nuts: security alert as pranksters scale tallest building". The coverage left Garrett wary of speaking to the press, but eventually he put forward two members of the group willing to speak to Property Week, on the condition that only their first names are used.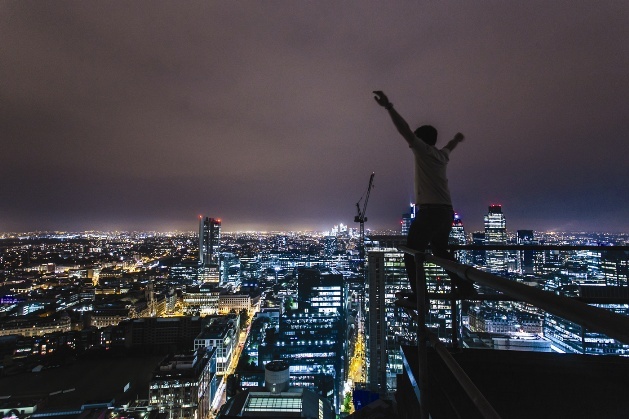 Source: Ali
Ali and Mike, two 26-year-old photographers, reveal why they do what they do, how they do it and what it is like atop Europe's tallest building.
Both are unhappy at the media portrayal of their Shard break-in as a publicity stunt.
Ali says: "It's amazing the number of things we've been labelled: pranksters, thrill-seekers, urban risk-takers … I think people viewed it as some sort of crazy stunt. But it wasn't. This is what we like to do in our spare time."
He says the group's name — apparently an unfortunate joke that stuck — does not help.
"Every time people get hold of the name they think, 'Oh there's this group of people and they're doing something different. They're upsetting others and causing havoc — they must have a political agenda.' But we don't. We're not looking for any gain, other than new experiences."
Is it just about being a thrill-seeker, then?
"There is some crossover between our activities and those of subcultural groups such as people who do parkour [an urban sport from France that involves leaping from one building to another], graffiti and so on," Ali admits. "We go to similar, disused spaces and are using urban environments in an unconventional way.
"But it's not just about that — photography is a large part of the reason I go up those buildings.
"The other part is the excitement you get from visiting places that people either don't know about or don't experience because they don't take the opportunity to do something different."
Mike's reasons are similar: "I got into it through a love of photography, but also because I felt like I was suffering cabin fever. When you live in a place, even if it's a busy city, you see the same buildings, the same public spaces. It sometimes feels as if nothing ever changes.
"It's only when you delve beneath the facade that you realise all the wonder and interest around you."
The lure of the Shard was particularly strong.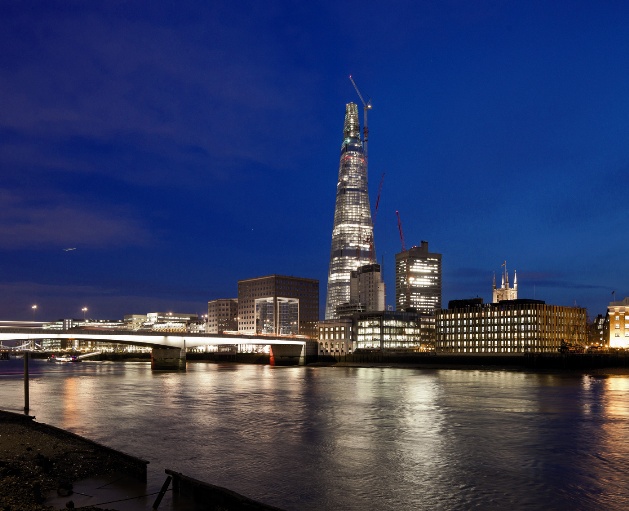 Source: Tim Crocker
"It's not just a building," says Ali. "It's a bold, ambitious statement and to have built it during the current economic climate is a real feat. I think it will be to London what the Empire State Building is to Manhattan: an iconic part of the city's skyline."
Preparations were lengthy and meticulous.
"We wanted to go there so badly," says Ali.
"We knew that if we did go there before we were ready, and got caught, we would be ostracised for jeopardising everyone else's enjoyment."
In the preceding months, they visited the site several times, noting the movements of the construction workers and security guards, possible access points and pitfalls. The group has accessed other buildings by covertly watching them with a telescope and recording security codes.
But at the Shard, the doors were kept unlocked for health and safety reasons and the only barriers to entry were 12 ft-high hoardings. However, the group knew construction workers were on site 24/7.
Christmas climb
Their opportunity came in December 2010, when it was announced that construction would stop for four days over Christmas as a concession to local residents. Members of the group climbed over the hoardings and entered the site.
But Ali recalls a tense moment when he and Mike had scaled the walls and were hiding behind concrete blocks waiting for the others to get over.
"Within seconds, a security guard walked around the corner," Ali says. "But just at that moment, one of the others poked their head over the hoardings and saw them, so they waited a while before climbing over. That could have been the end of it."
Despite what appears to be a "guerrilla"-style activity, Ali and Mike insist they are not doing anything wrong because they do not intend to cause damage, steal anything or hurt anyone.
"What criminal would carry around a £2,000 camera?" they ask.
They accept they are trespassing, but claim this is a civil, not criminal offence, so there are no serious legal implications. They have been caught: four members of the group spent the night in a cell after being arrested exploring an abandoned rail track.
"Sometimes it's hard to explain to the law why you're there. The police will always be looking for a criminal motive," says Ali. But he says they can usually explain why they are there, apologise profusely and be on their way with a promise not to do it again.
The Metropolitan Police failed to respond to Property Week's requests for clarification on how it would deal with activities such as those of the London Consolidation Crew.
But Richard Anyamene, property litigation partner at Mishcon de Reya, says the group is right: although they are breaking trespass laws, there is little anyone can do to punish them.
"It is possible to seek an injunction to prevent trespass on your land, as some property owners did during the Occupy London protest. But trespass is not a criminal offence, so you can't be fined or go to jail for it," he says. It is also unlikely that the London Consolidation Crew could be liable for breaking and entering, as a court would have to prove they had criminal intentions.
"If they had known they would have to cause serious damage to a building to gain access, or had warned off a security guard with threatening behaviour, that might get it over the line, but even then they would probably only be fined," says Anyamene.
For property owners and contractors, however, there could be serious liability issues. Owners owe a "duty of care" not just to the tenants, but to anyone who might visit or even trespass. They must take all reasonable measures to ensure the building is safe and secure. If a trespasser falls off their building, is injured or injures someone else on site, they can be liable for damages to the injured party. This duty of care falls to the contractor if the building is under construction.
Stephen Ratcliffe, director of the UK Contractors Group, a body that represents the interests of construction firms such as Mace, which oversaw the Shard's construction, says: "The main issue that concerns our members is health and safety.
If an accident or death occurred, a court would ask whether reasonable attempts had been made to prevent people being at risk while on site."
David Workman, director of property manager Workman Group, points out that few construction sites are truly dangerous, as contractors have to carry out stringent health and safety checks.
Still, accidents do happen, particularly in derelict buildings, where contractors are not yet on site. Five years ago, at a former mental asylum, Ali fell several metres and landed up to his armpits in a crumbling water tank. Would it not be safer to obtain permission from the landowner first?
"I've found it impossible whenever I've tried, because of health and safety. Hence our maxim: it's easier to win forgiveness than permission," he says.
It seems unlikely Irvine Sellar would have given the group his blessing to climb up the Shard, despite the publicity the group claims it has garnered.
Sellar declined to comment.
Although the Shard was a once-in-a-lifetime experience for Ali and Mike, there are many other buildings to which they return on a regular basis to explore, and sometimes, weather permitting, have picnics. These they will not divulge.
So the select international band of dignitaries that gathered at the summit of the Shard this week may yet find their own properties visited by some uninvited guests.