George Ferguson: the red-trousered philanthropist
Next Thursday Bristol will elect a city mayor. But can George Ferguson win on an independent ticket?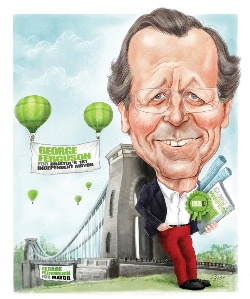 From his practice in the centre of Bristol, George Ferguson can see across to College Green, where a line of red trousers is hanging in the upstairs window of an office building.
If he becomes Bristol's first elected mayor, the famously red-trouser-wearing architect will be one of the few to have ever held political office. His responsibilities will include a range of council services with a turnover of about £1 billion a year and attracting investment for Bristol from home and abroad.
His decision to stand for mayor was based on his belief that those with real experience can do the job better than career politicians: "Jaime Lerner is a remarkable Brazilian architect who became mayor of Curitiba and made me realise that you can think of a city as a project — it's just bigger than what we're normally used to."
But Ferguson says it's his background as an entrepreneur that gives him the necessary skills. "I am careful not to describe myself as George Ferguson the architect. I tell people that my occupation is making things happen. The danger of using 'architect' on its own is that people think of someone who designs buildings that get in magazines. Architecture should be broader than that."
It's a mantra he preached even as RIBA president from 2003-5, when he proved skilful at using the media to demystify architecture in a way that won him admirers outside the profession, and a grudging acceptance among even his more snooty colleagues that being able to jump on tables and talk without notes had its uses. Certainly he made the RIBA less stuffy and architects as a whole more approachable.
Clare Wright, of Wright & Wright Architects, who was brought onto RIBA Council by Ferguson, says: "George is unusual — he stood out as a true feminist in the macho world of construction. He always listened and really heard our point of view. He listened to others too, some of whom were not reasonable. He was always good-tempered and principled."
But Ferguson's first experience of local politics was less happy. "In the seventies I was a liberal councillor because I was agitated about what was going on and the inappropriate development made me angry — so I went on the city council to change things and came off it totally disillusioned.
"This time I'm trying to be absolutely brutally honest about everything, rather than making cynical party political manifesto pledges. Labour says if it wins it will build 4,000 new homes in its first term of office but if you talk to housing associations that's simply not going to happen."
It's his independence — he takes particular pleasure in pointing out that the mayoral favourite, Labour's Marvin Rees, arrives at hustings in a chauffeur-driven black car and has minders while Ferguson arrives in a Smart Car — that has served him so well in this campaign.
And he has also caught a moment in local politics when the electorate is turning off from the three main parties. Down the road in Frome, Pippa Goldfinger, an engineer and granddaughter of Ernö, has been elected the town's mayor on an independent ticket. Ferguson says his role model is the former MP for Tatton, Martin Bell, who famously defeated Neil Hamilton on an anti-sleaze ticket in 1997.
Rob Gregory, programme manager at the Bristol Architecture Centre, says: "The general mood is that it would be great if George became mayor as he's done so much down here and he shows that architecture is political and social. No one knows George for a building type but for what he's done — like stopping the docks being filled with cement and saving old buildings."
These include the former Imperial Tobacco Factory — now a nationally renowned theatre space, restaurant, bar, workspace and loft apartments, including Ferguson's own — and a former brewery which now flourishes as the Bristol Beer Factory, supplying 15,000 pints a week.
I am careful not to describe myself as George Ferguson the architect. I tell people that my occupation is making things happen
In fact, although Bristol Architecture Centre backs an elected mayor it refused to back Ferguson — claiming that it needs to be neutral. It has also been silent on an issue that whoever is elected next week will surely want to address: Bristol's glaring failure to encourage decent contemporary architecture.
Ferguson is supporting the building of a new arena at Temple Meads, so that the city doesn't get left off the circuit when it comes to big music acts, but he has been careful not to pledge a raft of new projects. Instead he is promising to transform how local government is run — something that has particular resonance in a city that in recent years has swapped between Labour and Liberal Democrats but is now hung.
"I always say that Bristol is the best city, worst run. The governance of Bristol has not engaged Bristol's talent properly. And as a result we're losing out to th-e more challenged northern cities like Manchester and Liverpool."
Ferguson's ambition is to make Bristol England's second city. But Jon Tonge, Professor of Politics at the University of Liverpool, doubts city mayors have this clout: "Although David Cameron talked about putting a Boris in every city, the fact is the mayor of London has a much greater strategic role. What a city mayor has is some strategic pots of money so they can prioritise a few issues, but the idea they can transform a city's fortunes is frankly absurd." Ferguson might just be the candidate to prove him wrong.
What is the role of the elected mayor
The new mayor will lead the city council and its services, excluding non-executive functions such as planning.
Ferguson says he will have a deputy mayor and five associates from all parties "based on talent and experience" and, if elected, will cease having any role in his practice Ferguson Mann Architects. He will take the recommended salary of £65,738 in Bristol Pounds.
The real test of directly elected mayors will be their success at making a case for powers to be decentralised, and arguing for a larger stake in the economic gains from development.
The supplementary vote system will be used on Thursday. If no candidate gets a majority of first preference votes, the top two candidates go on to a second round when second preference votes are allocated to produce a winner.
Ferguson is currently behind Labour's odds-on favourite Marvin Rees but could benefit from the system.
Postscript:
The above quote from Jon Tonge was wrongly attributed to Robin Hambleton in an earlier version of this article and has been corrected accordingly.