Former ODA design adviser finds the joy of elegant solutions
Kay Hughes is no stranger to challenging client roles
No-one else except me gets excited about this," laughs Kay Hughes of the bespoke cladding that encloses the transformers on the Olympic Park.
But as she was principal design adviser on £1 billion of utilities and infrastructure to the Olympic Delivery Authority, it was down to her (until her contract ended last month) to ensure that even such small pieces of infrastructure contribute positively to the public realm as well as fulfilling their primary roles.
"They might not be the glamour projects, but even the functional can be enchanting," says Hughes, who has overseen the development of a family of utility and bridge structures, including Nord's electricity substation and McAslan's Olympic Energy Centre.
She is also an admirer of John Lyall's Barragan-esque Old Ford water treatment centre. "I'd like to see all infrastructure like that — something you enjoy walking past… They are all opportunities to make good spaces," she says. "It's really important to make buildings that are part of the urban environment and not something you fight against."
Hughes, an architect, was no stranger to challenging client roles even before the Olympics job. As senior project sponsor at the Foreign and Commonwealth Office from 2002-06, she initiated major embassy new buildings and refurbishments, including Tony Fretton's Warsaw Embassy and MJP Architects' Bangkok compound. Before then, she was design adviser to the major projects team at Sport England from 1998-2002. Previously, Hughes had worked in private practice but turned client because of the greater scope it offered.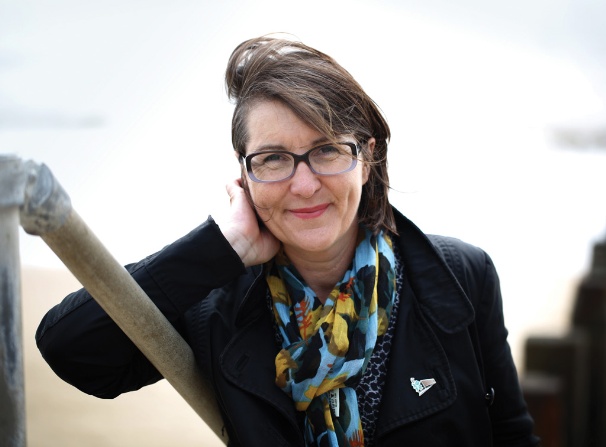 Source: Becky Long
"There is a lot more opportunity to achieve architectural ambition on the client side," she says, adding that she also wanted to take a different route to that of her husband, Richard Lavington of the practice Maccreanor Lavington. "Richard is such a good architect — I feel that's a race I can't win."
She has enjoyed the opportunity her work has given her to facilitate imaginative commissions. "I've been good at bringing in architects who weren't the obvious candidates from a client perspective to deliver something really special… The Foreign Office was an amazing place to work. There was a real opportunity to promote UK plc globally. That's a common thread with the Olympics," she says.
So what does she look for in an architect? "Someone who's adaptable, who's inspiring, who's happy to have a dialogue about things and isn't too dogmatic. When there are so many constraints on a project there needs to be some adaptability."
As an Olympic client, the attribute she most needed herself was, she says, determination.
"At the beginning of the process it was very clear that the demand for infrastructure was vast and would underpin what would happen on the masterplan. A lot of co-ordination was needed to accommodate roads and topography that couldn't just be left to engineering because it would have a very strong influence on the public realm," she says.
She hopes the careful attention to infrastructure on the Olympic site will demonstrate the benefit of recognising the value of outward appearance as well as the technology and performance of infrastructure.
"The government recognises that infrastructure is essential and they can justify investment. The question is whether they'll recognise its importance to the public realm and the spaces it makes."
Her contract at an end, Hughes is enjoying a well-earned pit-stop before looking for another role in September. In the meantime she is excited about experiencing the Olympic site as a spectator, transformer cladding and all.
Who's Hughes?
Biggest break
"Realising that client organi-sations sometimes struggle to understand the design process and need people with an understanding of archi-tecture to help them deliver projects well and efficiently. Then, having the luck to work with some great client groups over the last 10 years."
Favourite piece of infrastructure
"Joze Plecnik's bridges in Ljubljana, which, along with sluices, kiosks and a market building, form part of a network of structures that draws the city together, uniting architecture, engineering and city making." 
Biggest influences
"Esteve Bonell for his architectural elegance, sense of proportion and form but most particularly for learning that sports buildings can have a valuable civic presence. And Denys Lasdun for teaching me that modern architecture is deeply rooted in history."