Prince looks to past for the future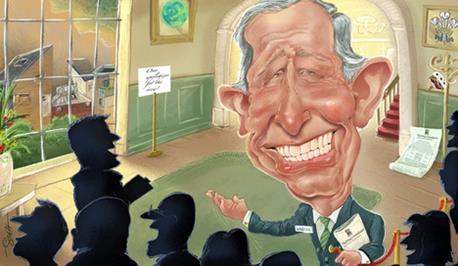 The Prince's Foundation's latest design aims to show that low-energy housing need not be the preserve of modernists. Will Hurst reports
On the outside, the latest house to be designed by the Prince's Foundation looks like more of the same. It has a hipped roof, ground floor railings, sash windows, columns and imposing chimneys, which adhere to all the foundation's teachings on correct proportion.
But according to the foundation's chief executive Hank Dittmar, the true inspiration for the experimental home — which goes on site at the Building Research Establishment's innovation park near Watford next month — lies further afield at Taos Pueblo, a 1,000-year-old American Indian settlement in New Mexico.
Dittmar believes the solid wall adobe construction used at the Unesco world heritage site could pose a challenge to the more overtly modern eco-homes built at the park, including the Lighthouse by Sheppard Robson, the first home to have achieved level 6 of the Code for Sustainable Homes.
At the heart of the foundation's Natural House project — first revealed in BD almost a year ago — is the use of lightweight clay blocks, fired in a low-energy manufacturing process, the serrated edges of which fit together to create simply constructed, highly insulated walls. These will be combined with other "time-tested" materials such as lime and hemp render, timber and sheep's-wool insulation.
Following its unveiling at the BRE's Insite exhibition in June next year, the house will be extensively monitored for energy use and, although aiming only to achieve a more modest level 4 of the code, is intended to demonstrate to government and the BRE the shortcomings of the code and convert UK housebuilders to the cause.
While many architects are dismayed that the house looks so traditional, Dittmar is adamant that the design — drawn up by foundation design director Ben Bolgar — is a high-quality reflection of outer London housebuyers' tastes, although he refuses to be drawn on the question of cost.
"At the moment, we're trying to get people to be green and embrace alternative architecture, and that may be a bigger rock to push uphill," he says. "Unlike most houses built in this country, this is a correctly proportioned, well designed, traditional house.
"We wanted to demonstrate a house which could be built quickly and easily today. We must deliver low carbon in a way that is appealing to home buyers."
The inspiration for the house lies at the 1,000-year-old Taos Pueblo in New Mexico

 
This echoes the views of the Prince himself, who insists the drive for low-carbon homes should not have to mean modern design.
He has said that "it makes greater commercial sense to design an eco-excellent house of vernacular appearance" because this is what the public likes.
Dittmar, who studied passive heating and cooling technologies as a student in Texas in the early 1980s, also argues that the type of clay brick and block walls seen at Taos Pueblo maintain a comfortable internal temperature and boast low air leakage, combined with a breathable quality that is lacking in modern construction equivalents such as plastic membrane walls.
"It builds on a couple of thousand years of building technology," he says. "It's a house which importantly comes from the ground, or at least from materials which come from the ground.
"We're going to make something quite beautiful, attractive and pleasant to live in, and we wanted to demonstrate something which could be efficient but built on site by a traditional housebuilder."
But observers predict that the foundation's insistence on a traditionally styled house will affect the project's substance.
Architect and eco-pioneer Bill Dunster's RuralZED operation combines traditional materials such as lime render, terracotta and timber with microgeneration and biomass technology. He welcomes the material choices of the Natural Home but says it is wrong to regard photovoltaics and other technologies as possible add-ons.
"All the materials are great," he says. "But why they have fixed themselves to retro Victoriana is beyond me — it doesn't seem to have progressed much beyond the 1850s, although it may have a bit more insulation.
We must deliver low carbon in a way that is appealing to homebuyers

 
"It doesn't seem to have recognised that there is a whole new building physics model based on renewable energy… it's very damaging to use low embodied energy materials to justify an inexcusable design."
Alan Shingler, director of sustainability at Sheppard Robson, which was responsible for the nearby Lighthouse, admits the natural house will be a useful addition to the park "if it achieves code level 4 without a large amount of renewables", but questions how progressive such a traditional house can be.
"Part of designing sustainable homes and a home for the future should be a move to encourage behavioural change in the user," he says. "If we are to meet the government targets of cutting CO2 by 80% by 2050, we need to change the way we live, and homes are where this needs to start.
"If you chain yourself to a pattern book, it may be you can't facilitate a sustainable lifestyle."
Robert Adam calls the Natural House project "eminently sensible", but tells BD he is bemused at what he calls the "terribly specific" design.
"It's not like anywhere I know in the UK," he says. "It's got a very specific hidden gutter of a type seen in the Nantes area of France.
"What you'd be looking for with a scheme like this is something generic… but this is a semi-detached house with a very unusual classical arrangement."
Whatever architects think, one thing is clear. If the Natural House ticks two crucial boxes by achieving code level 4 and proving a hit with the public, the Prince of Wales will take a giant leap forward in his challenge to the profession and the wider construction industry.
Materials used
Flooring Forestry Stewardship Council (FSC) certified timber or linoleum

Solid walls Low-energy fired clay blocks

Roof tiles Clay with sheep's wool insulation

Sash window frames FSC timber

Outside walls Rendered in lime and hemp