Peter Rees: The man who built the City of London
As Peter Rees marks 25 years as the City of London's chief planning officer BD meets the man and gauges to what ends he has used his considerable power.
The idea that BD might run a profile of the City of London's chief planning officer on the occasion of his 25th anniversary in the post may be a very good one but it wasn't ours. It was Peter Rees's own office that approached us – along with a number of property magazines and even national newspapers – with the proposal. I am glad that they did.
I had not met Rees before but during the couple of hours that we spent talking – first in his office at the Guildhall and then while touring some of the major developments he has overseen – he more than lived up to his reputation for charisma, frankness and a keen sense of what makes a good quote. And yet the question of why he wanted all this publicity never quite got answered. After our meeting I spoke to architects, developers and planning consultants who had had dealings with this pivotal figure in London's recent development. Inevitably, some were critical – although, equally inevitably, they weren't keen to speak on the record – but even one of his considerable number of fans said that he "wasn't surprised to hear that Peter might want to commission his own hagiography". If that was his ambition, it is one with which I can at least sympathise.
In a country where planners rarely identify their role as anything more purposeful than that of development controller, Rees has been a genuine maverick. Almost uniquely he sees his task as one of design – a perception that is doubtless related to the fact that he began his career as an architect – and has proved spectacularly successful in promoting a particular vision of the City's development and persuading others to adopt it.
He puts the number of cases in which the City's planning committee has chosen to disregard his recommendations at "less than one per cent" – an astounding show of confidence in his judgement given the scale of the change that has taken place during his tenure.
Like it or not, the City of London is one of 21st century Britain's most remarkable built environments. It is not without justification that Rees might claim to be its author.
New expectations
The then 37-year-old Rees was appointed in 1985, at a time when, as he puts it: "The image of the City was that of a throng of commuters trudging to work across London Bridge, many of them still in bowler hats. Dining options were extremely limited but then most bankers' lunches didn't involve anything solid."
With the significant exception of the under-construction Lloyd's building, architectural ambitions were low, most commissions being handed out to one of half-a-dozen large commercial firms, the least dismal of which was Seifert.
All of this, however, was soon to be swept away by the deregulation of financial services that took place the following year. Whereas previously only British-owned companies had been allowed to undertake stock dealing and banking transactions, now German, American, French, Swiss and Japanese banks were able to establish themselves in the UK. They brought with them new expectations, not least about the kind of buildings they were prepared to occupy.
The Broadgate development was emblematic of the change. Deregulation had removed the need for banks to be close to the Bank of England, with the effect that peripheral sites – Broadgate straddles the City/Hackney boundary – were suddenly transformed into major development opportunities. For it to attract the best tenants, however, Broadgate's developers recognised that it would need to provide a very different environment from that on offer in the historic City core. They drafted in Arup Associates and subsequently SOM to create a model corporate campus, replete with leisure and retail uses, high-quality public spaces and architecture of a slickly post-Miesian stripe. It was a sea-change project, transforming developers' understanding of the commercial advantages that might ensue from investment in architecture.
Glazed over
If Rees has a criticism of Broadgate today, it is of its architecture's internationalism. "There are parts by SOM," he says "that you can find in Canary Wharf, in Boston, in Chicago – almost exactly the same building."
That kind of creative recycling clearly didn't get past him for long. "There's only one tool of development control that really works – and which I possess – and that is a low threshold for boredom," he says, not without glee. "Developers quickly discovered that if they brought in the same old thing by the same old people I glazed over and lost interest."
The nineties duly saw a considerable expansion of the range of practices working in the City, among them firms of the calibre of Foster, Parry and MacCormac Jamieson Prichard.
One suspects that Rees's low threshold of boredom may have a lot to do with his reasons for abandoning a career in architecture. Nonetheless, he clearly enjoys the opportunity that his job affords him to establish collaborative relationships with architects. "I say to the developer: come to see us at the back-of-the-envelope stage. But don't draw on the envelope.
ome in with a blank envelope. Bring us in at the briefing stage with your architect and from then on let us work as part of the team."
He applauds Eric Parry, perhaps the architect who has built the most impressive body of work in the City during the Rees era, as "a good team player" but clearly that description doesn't fit them all. He recalls visiting James Stirling in his office – "He wouldn't come to my office!" – to ask that the roofscape of No 1 Poultry be lent greater animation. Returning two weeks later he was presented with a flat model depicting a design for a rooftop garden and restaurant. Rees asked to see what it looked like in relation to the rest of the building, to which Stirling snapped: "That's nothing to do with you! I am the architect."
That complaint – that Rees's involvement can prove more collaborative than the architects involved might wish for – is one I have heard reiterated elsewhere. I ask if he throws in his own design ideas. "It's the architect's job to design it, not mine," he replies. "The best a planner can do, if an architect's heart isn't in it, is to make mediocrity out of awfulness. We have redesigned one or two buildings to achieve mediocrity. But that's a last resort."
And yet on our walk later in the morning we pass Foster & Partners' One Gresham Street – a building that he clearly deems a success – where he tells me how the stone corners of this steel-framed building were his idea. "You could say that's a design involvement," he admits. "But if the architect hadn't believed in it, it wouldn't have come out right… It's tested by the architect."
Rees appears fundamentally opposed to any legislation that might prevent him maintaining this kind of one-on-one working dialogue with architects. One of the first decisions he made on taking up his post was to abandon the use of plot ratios so that all proposals had to be judged in relation to (necessarily more subjective) townscape criteria.
"New York finds it very difficult to get inspiring architecture in commercial buildings," he says. "The reason is they have a building code based on rules. You have buildings to which you are entitled so why bother to do something different and argue your way through their commissions for years? What happens is you build the standard code building. In London you have to first of all cope with my threshold of boredom."
Well, if codes are too blunt an instrument, I ask, is there not then all the more need for planners to start planning again – to make physical propositions about the city to which architects can respond? Wrong again.
"In Berlin," he shudders, "you are not allowed to do a building until the planners have designed a masterplan. The architect just puts a suit of clothes around it.
In this country it's all to play for, which encourages ingenuity and creates more of a challenge."
Masterpiece in waiting
No building better exemplifies Rees's reasons for wanting to maintain that empirical way of working than the new Rothschild Bank headquarters now being constructed at the heart of the City's most important conservation area to designs by Rem Koolhaas. Rothschild's has occupied the site since 1809, rebuilding its accommodation twice already. This time, however, it required a very considerable expansion in floor area – where its previous headquarters was six storeys in height, the new one rises to 16.
Rees advised that the only way he could sell such a proposal to the planning committee was if Rothschild's commissioned a building of extraordinary architectural distinction. Rem Koolhaas' Office of Metropolitan Architecture was duly commissioned, producing a design that – whatever its merits – would clearly never have emerged if codes or a masterplan had been in place.
The committee did accept it but by a narrow majority – 13 votes to nine – and only after Rees had assured them that it was a masterpiece in the making. It was one of the biggest tests of his authority to date. "It wasn't an easy ask," he accepts. "But if somebody has managed to persuade the oldest family bank now left in the City to go to an ultra-modern architect who used to be an enfant terrible – he's no longer enfant but he's still kind of shocking – and get him to design their building, it would be a very strange planning authority that turned around and said 'I'm sorry, we don't like it'."
Rees does, of course, have overarching formal ambitions for the City – notably the cultivation of a cluster of tall buildings around Tower 42 – but he is profoundly resistant to the suggestion that there might be value in steering separate developments towards any kind of common architectural language. He cites the two years he spent working for Gordon Cullen in the early seventies as formative and it is not hard to see the influence of Cullen's picturesque sensibilities on the city that Rees has made. Variety, contrast and incident are privileged over formal cohesion at every turn.
On our walk we stop on Wood Street, where he points out major buildings by Farrell, Foster, Rogers and Parry, the latter two of which were both Stirling Prize nominees. But isn't it, I ask, all a bit of a mess? "The cohesion of the place is the space. It isn't the buildings. The architecture will come and go," he says. "I hate Paris except for the bits that Haussmann never got hold of. When I go to Paris I don't want to go to the Champs-Élysées and the great squares. I want to go round the back to the bits that got missed out. That's where the life is. That's where the interest is."
Failure of imagination
Given the extent to which London is the product of a determined reluctance to impose large-scale urban strategies, it is a view that demands to be taken seriously. However, as we walk out to the environs of St Paul's Cathedral, one is made starkly aware of its limitations. To the north of the cathedral lies the William Whitfield-planned Paternoster Square, an ensemble of freestanding masonry buildings of contained footprint, varied authorship and essentially classical bearing. To the east stands Jean Nouvel's soon-to-be-completed One New Change: an amorphous, fully glazed volume that occupies the entirety of its urban block. The schemes' expressions are, to all intents and purposes, diametrically opposed and yet Rees steered both towards planning approval.
It is hard not to feel that his unwillingness to demand any relationship between them represents a failure of urban imagination.
What a heroically impossible figure Peter Rees is. He is a planner who evidently harbours a profound suspicion of large-scale planning and yet is intent on micro-managing the design of every project that comes before him. He operates, in other words, a tyranny of subjectivity to which anyone hoping to build on his patch soon discovers they had better submit. That is an expensive process for developers and frequently a creatively bruising one for architects but, no doubt, it produces a kind of result. No-one can deny that Rees has presided over a very dramatic improvement in the quality of the City's architecture.
I can't help wondering, however, what other country in the developed world operates a planning system that would allow a figure like Rees to accrue such power. On the face of it his position here is a conflicted one: he is a highly proactive individual operating within a fundamentally reactive system. And yet it is surely the very absence of propositional urban thinking that characterises the UK's moribund planning sector that has allowed him to operate with such autonomy. "The British don't like planning and in a way I've always been happy to work with that," he acknowledges.
The City of London may well represent the best that our planning system can deliver but, for all Rees's protestations of their tedium, I suspect New York, Berlin and Paris have rather a lot to teach us yet.
City life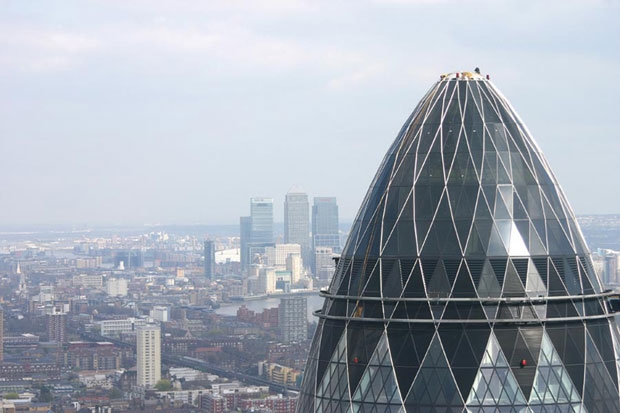 1985: Peter Rees appointed chief planning officer.
1986: Deregulation of financial services.
1989: Arup Associates' competition winning scheme for Pater-noster Square is scrapped following the intervention of the Prince of Wales.
1991: After a five-year battle Peter Palumbo gains permission from the House of Lords to build Stirling & Wilford's No 1 Poultry.
1992: Baltic Exchange bombed by the IRA.
1997:Foster & Partners' proposed 385m-high Millennium Tower on the site of the Baltic Exchange is abandoned following strong opposition.
2003:William Whitfield's masterplan for Paternoster Square is realised with buildings by Eric Parry, MacCormac Jamieson Prichard and Allies & Morrison.
2004: Fosters' 30 St Mary's Axe, the "gherkin" (pictured), completes on the site of the Baltic Exchange, and wins the 2005 Stirling Prize.
2010: Nouvel's One New Change is set to open in October, helping to realise Rees's ambition to transform the City into a shopping destination.
Original print headline - The man who built the City of London