It forms a major part of Birmingham's Big City Plan
London-based practice Patel Taylor has completed Eastside City Park in collaboration with French landscape architect Allain Provost. It is Birmingham's first new park for over a century.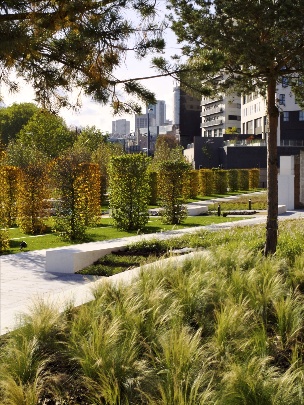 Eastside City Park sits on a 800m long brownfield site stretching eastwards from Park Street along the frontage of Nicholas Grimshaw's Millenium Point. It provides 3.4ha of public amenity space, with an adjoining 188m canal feature and 21 jet fountains.
The linear park is divided into formal lawns and public squares, with perforated Corten steel sculptures to mimic the large trees that differentiate the spaces.
The £12.5 million scheme is a major part of Birmingham's Eastside regeneration quarter and its Big City Plan- Birmingham Council's £10 billion redevelopment of the city centre over the next 20 years.