Page & Park discovers 15th century beehives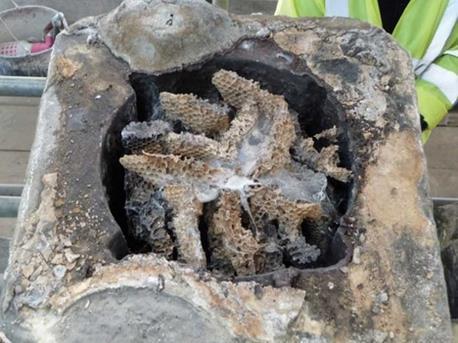 A project by Page & Park to restore a 650-year-old Scottish chapel featured in the film The Da Vinci Code has uncovered a new mystery: a pair of stone beehives hidden within its ornate roof pinnacles
Project architect Malcolm Mitchell said that nobody was aware the two cylindrical hives at the Rosslyn Chapel in Midlothian, scotland, existed until work began.
The only clues were flowers carved into the pinnacles — with holes through which the bees could enter and exit.
They are believed to be the oldest man-made stone bee hives ever found and have now been restored as part of the £7 million project.
"We had no idea they were there," said Mitchell. "The chapel has so many elaborate pinnacles, but we could not know what was going on behind. The two pinnacles are on the east gable side, and there was no outward sign that the hives were there other than the flower.
The hives, measuring about 650mm high and 40mm in diameter, had the remains of honeycomb within them, although it is thought they have not been occupied for a decade.
Mitchell said it was possible bees might naturally gravitate back towards the hives or — given the level of interest in the find — chapel officials might introduce a colony.
The Rosslyn Chapel has undergone a refurbishment after being selected as the location for the finale of The Da Vinci Code movie, prompting an increase in visitor numbers from around 25,000 a year to up to 140,000.
As well as restoring the chapel, the project, funded by the Heritage Lottery Fund and Historic Scotland, involves extending its visitor centre and parking facilities, all due for completion in 2011.
n The Heritage Lottery Fund has awarded £240,000 to help restore a run-down Scottish castle with a colourful past. Lews Castle, currently on the Buildings at Risk register, was built in Stornoway in 1847 for an opium baron. It was later bought by William Lever, scion of the Unilever dynasty, and served as a Navy base during the second world war.