Oscar Niemeyer's health deteriorating, says hospital
Centenarian architect has several projects on the drawing board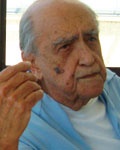 Oscar Niemeyer's health has deteriorated, according to the hospital in Rio where he is being treated for kidney failure.
The Brazilian architect, who is due to turn 105 in less than a month, was readmitted to hospital earlier this month after suffering a relapse. He spent two weeks in October in hospital.
Bleeding in his digestive tract has been brought under control and he is lucid and breathing with the aid of a machine. There are no plans to discharge him because his condition needs ongoing treatment, said doctors.
Niemeyer's wife told reporters he was working on several projects, including a cultural centre in Morocco and a library in Algiers.