A tribute to the godfather of Brazilian architecture, who brought buildings to life with the stroke of a pen
Oscar Niemeyer, who has died at the age of 104, cast a titanic shadow over the world of Brazilian architecture. Many younger Brazilian architects feel it has been hard to escape his dominant presence and that, in the eyes of the world, he has been the only Brazilian architect worth talking about since, as a young man, he welcomed Le Corbusier to Rio, and his career took off as part of the design team of the internationally feted headquarters for the country's health and education ministries completed in 1943.
That design had been a Latin American take on Le Corbusier who had flown from Modern Europe on board the Graf Zeppelin, arriving like a "mighty god visiting his pygmy worshippers", so Niemeyer told me, with a wry smile over a glass of red wine and the smoke of a cigar from a box given to him by his friend Fidel Castro.
Niemeyer emerged rapidly from Le Corbusier's equally commanding shadow, imbuing Brazilian architecture with striking geometries, indigenous contemporary art and a curvaceous sensuality that had no real precedent on either side of the Atlantic. From the 1950s, his work shone in sheer sunlight.
I was pleased to have visited both Brasilia and Niteroi before I first met the man himself, when making a radio documentary on the relationship between Rio and the new Brazilian capital, a city that, for its first few decades, was, architecturally, almost one hundred per cent Niemeyer. The building that captured my eye was the exquisite Alvorada Palace, the official home of the Brazilian president, a glistening, diaphanous structure overlooking Lake Paranoa; the sails of yachts mirrored the fins of the palace's façade. Here was architecture as sensuous as a love poem by Neruda in a city, made of concrete, built by presidential decree in just forty-one months.
In Niteroi, across Guanabara Bay from Rio, I sat by Niemeyer's museum of contemporary art, opened in 1996, watching and listening to waves crashing into the concrete stem of this curvaceous and compelling building. Newly weds paraded for photographers up and down the snaking red entrance ramp. Young lovers mooched in the soft, water-lit shadows below. A coachload of children from a hillside favela came to be snapped for a school photo with the gallery as a backdrop. Clearly, local people had taken Niemeyer's building to heart. When I asked them who the architect was, everyone, including those favela children, knew: "Oscar!"
In person, Niemeyer didn't disappoint. How could he? Until close to the end he worked most days, receiving visitors, from politicians – Castro, Chavez, Brazilian presidents – architects, writers, footballers, filmmakers and musicians. He drew indefatigably, and though he told me on the three occasions we met that he "didn't like to talk about architecture", he did.
"Walter Gropius came to see me at the house [Niemeyer's home, designed in 1951 and now a part of the Oscar Niemeyer Foundation] at Canoas above Rio. I designed it in a sequence of natural curves to flow in and out of the landscape. He said, it's beautiful, but it can't be mass-produced. As if I had intended such a thing! What an idiot." Set among the shadows, scent and shimmering birds of banana and jackfruit trees, here are views of the ocean seen over a plunging river. Canoas is a very long way indeed, physically and spiritually, from Dessau or Berlin.
Born in Rio in 1907, Niemeyer was the son of a graphic artist and one of six children. His work was always going to be different from those of the other Modern masters.
"When I was very little", he told me when I last interviewed him, for The Guardian, in 2007, "my mother said I used to draw in the air with my fingers. I needed a pencil. Once I could hold one, I have drawn every day since. When I have looked at the site for a building, considered its budget and thought of how it might be built, and what it might be, the drawings come very quickly. I pick up my pen. It flows. A building appears."
An unswerving member of the Communist Party since 1945, Niemeyer always wanted to design popular, delightful buildings, brought to life with the stroke of a pen and imbued with the form and spirit of the ocean, mountains and curves of the human body. Backed by teams of engineers – "I have given them some headaches over the years" – he nurtured a highly personal, yet hugely engaging body of work.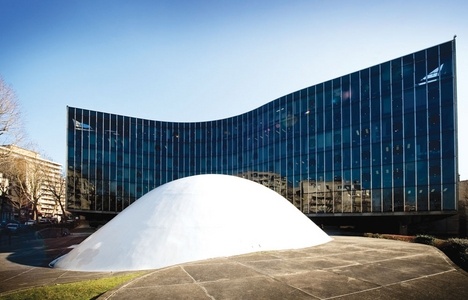 Source: Ed Tyler
In exile during the years of Brazil's most recent military regime, he always longed to be back in his office overlooking Copacabana Bay and, in later years, developed a phobia of international travel. This meant he never saw his one and only British building – the 2003 Serpentine Gallery in Kensington Gardens – nor did he accept in person the Royal Gold Medal awarded to him, astonishingly late the day, in 1998.  
The last of his designs to be built in his long career is the flower-like Brasilia Digital TV Tower opened in April this year. Other designs, on the drawing board, will continue to be built.
Niemeyer's first wife Annita, whom he married in 1928, died in 2004. Two years later, at the age of ninety-eight, he married Vera Lucia Cabriera, his former assistant. But although surrounded by friends, family and colleagues, he told me that, ultimately, his inspiration came from an inner dialogue. "I argue with myself. Inside, we are always at least two people. So, when I draw, I have this very clever man who fights with me. He is a great guy. He loves the beach, women and the sea. He says he wants to live a simple life, fishing, but he knows a lot more than me about architecture. Sometimes I talk to him out loud when I'm alone at my drawing board. And somehow we come to conclusions about what a new building wants to be, what it has to be. This is it. Nothing more."