Simple pitched forms capture dramatic views in Sognefjorden, Norway
Haptic Architects has unveiled images of its designs for a boutique spa hotel in Sognefjorden, in the southwestern Aurland region of Norway.
Inspired by the traditional Norwegian "tun" farmhouse, the scheme is formed by a collection of five buildings gathered around a central space. Each building houses its own function and is arranged to address particular views, from the dramatic panorama of the adjacent fjord to a sampled view of the surrounding mountain landscape.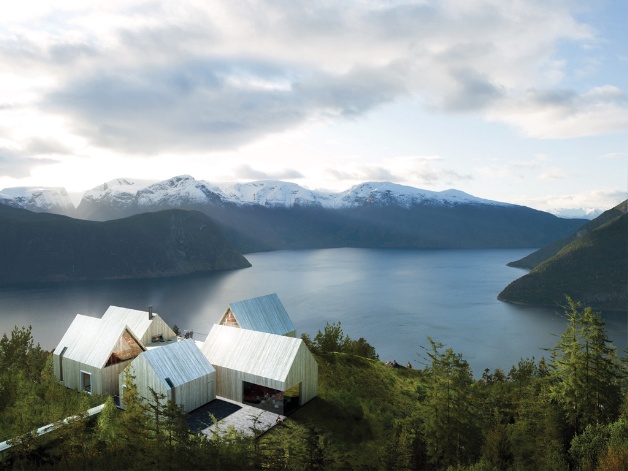 The central space acts as the primary gathering point, accommodating the reception and bar, lounge, dining room, breakfast room, upper kitchen, library and meeting room. At the lower floor — partially cut into the landscape — are further guest facilities of spa and treatment rooms, swimming pool, gymnasium, cinema and games room.
Eight individual cabins form the private guest areas. Their L-shaped plan is designed to be flexible, with two bedrooms and a central living space that can be used as one or two units with a maximum capacity of 32 guests.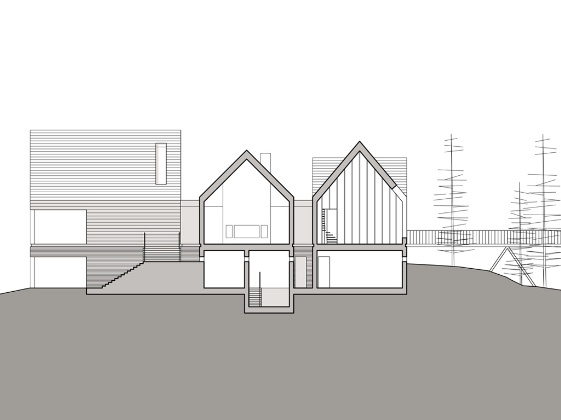 The lodge buildings are composed of simple pitched forms with large glazed openings, and are clad externally and internally in timber. In contrast, the lower floor is formed in natural stone, providing a heavy plinth on which the timber buildings rest.
The natural rock is to be partially exposed, squarely cut to show its texture, colour and natural details. This forms a particular feature in the swimming pool, where the exposed rock meets the built stonewall, separated by a light slot.