Libeskind calls for greater public involvement in architecture
Successful cities must give citizens a role in development decisions says architect
Giving members of the public a greater role in architectural and planning decisions would lead to more successful cities, Daniel Libeskind has said.
The American architect told delegates at an urban planning conference that cities must give residents a role in shaping their development if they are to be successful.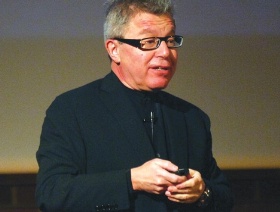 "A city is based on human beings," he said. "Unless it's built on a participatory, democratic principle the city will not have a future. The people have to be empowered to be involved in shaping the programme, but not just the programme but also the actual space."
Libeskind said he believed the rapid growth of cities in many parts of the world, coupled with developments in technology, offered an opportunity to involve citizens in urban planning.
"We often get a pessimistic view that cities are expanding so quickly," he said. "But if you really think about it it's a renaissance, a rediscovery. People are involved once again. Cities are not made of steel, they are made of citizens. That's really the building block of cities. People have rediscovered that they have a stake."
Libeskind referred to his own appointment to Ground Zero development in New York. Initial designs were rejected by the public which led to the developers holding an architectural competition.
"The Port Authority had its own plans but the public rose up against those plans and the Port Authority was coerced to transform their idea and hold a competition with seven different architects," he said.
But he acknowledged that businesses have an important role to play as well, and said part of the challenge for the architect is to find a compromise between public and private interests.
"We need public space but also investment and users and profitability," he said. "One has to be very practical not to unbalance what makes a city move ahead. Otherwise projects end up in archives. The key is to take those organisations that are able to build and bring them together with the public sphere."
Libeskind was speaking on a panel discussing leadership in urban planning as part of the Urban Planning for City Leaders conference. The event was hosted by UN-Habitat at The Crystal, a Wilkinson Eyre-designed sustainable development centre run by Siemens.