Le Corbusier's Ronchamp chapel stirs passions online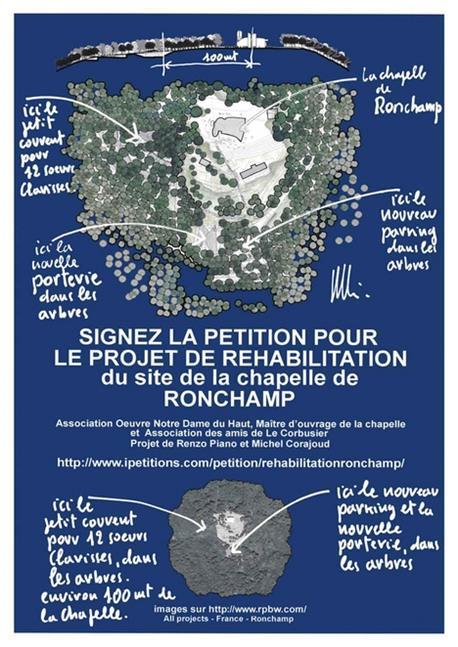 An online war is pitting some of the biggest names in world architecture against each other in a bid to influence the French Minister of Culture over the future of Le Corbusier's world famous Ronchamp chapel.
Cesar Pelli, Richard Meier and Rafael Moneo are among the signatories of a petition launched by the Le Corbusier Foundation to block Renzo Piano's £6.4 million "barbaric" scheme for the Notre Dame du Haut chapel – a world heritage site - which includes new visitor facilities and accommodation for nuns.
Despite most of the newbuild being located underground, the petition, which has nearly 1500 supporters, says there is a duty to preserve the site stating: "The refusal to transmit what was bequeathed us, opens avenues to all forms of barbarity."
However the Renzo Piano Building Workshop has launched a counter petition together with the client, the Association Oeuvre Notre Dame du haut. It has nearly 250 signatories including Massimiliano Fuksas, Eva Jiricna and Peter Cook as well as Tony Fretton, David Adjaye, Julia Barfield and former RIBA president Frank Duffy.
Renzo Piano Building Workshop's project architect Paul Vincent said the foundation's use of inflammatory language for its online petition propagated lies about his firm's designs, which he says has the full support of the French government. "The internet is a war machine – it can be very dangerous when used like this. The foundation's language is outrageous and misleading.
"Many people who have signed its petition did not see our project –including Richard Meier. There is a perception that we are building a hotel! We've sent him our scheme and we hope he will change his mind."
"We're surprised by the foundation's view – Le Corbusier saw the chapel as a social building – not just as an iconic sculpture."
Vincent added that his firm would meet with culture minister Christine Albanel next week to present the final plans, a necessity for French projects dealing with heritage sites.
Duffy, who first visited the site over forty years ago, said the Piano scheme was clearly respectful. "It's exactly what is needed at Ronchamp. The entrance to the site is marred by an awful carpark and outbuildings, and their removal and Piano's newbuild is entirely right."
The foundation was unavailable for comment.