OMA's Zeekracht North Sea wind farm masterplan offers promise of European energy independence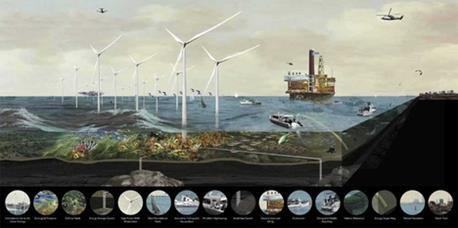 OMA has developed a masterplan for an offshore wind farm in the North Sea. If built, the giant Zeekracht wind facility could give Europe energy independence.
Commissioned by the Netherlands' Society for Nature & Environment (Natuur en Milieu), the masterplan outlines locations for a ring of wind parks in the North Sea that could generate 13,400TW hours of energy, while a new international institute for renewable energy would sit at the centre of the network.
As fishing with within a wind farm site is not allowed, links between the windmills would create areas of shelter for marine wildlife and space for artificial reefs.
OMA's vision would see all seven countries on the coastline around the sea sharing, distributing and trading electricity.
If the plan goes ahead, the society estimates that Europe could achieve energy independence from Russia and the Gulf states by 2050.
The Netherlands' Society for Nature & Environment said: "The Zeekracht masterplan's strength lies in its combination of current scientific knowledge with a strong vision of the future.
"Small, short-term instruments such as subsidies need to be replaced by long-term investment that delivers financial and ecological profit, as well as more energy independence."