High hopes for David Adjaye's Harlem scheme
David Adjaye has unveiled plans for an affordable housing scheme in one of the poorest parts of New York
The development in Sugar Hill, Harlem, will include 124 new homes along with educational, cultural and arts spaces.
The building, which overlooks the Harlem River, will provide a base for the new Faith Ringgold Children's Museum of Art and Storytelling.
The 18,000 sq ft museum will house a permanent exhibition of Ringgold's quilt art - which is shown in museums around the world - as well as spaces for temporary exhibitions and children's artwork.
It also incorporates a performance space, shop, a café and a media centre and library.
Ringgold, who grew up in the area, has developed the museum in order to provide local children with early education through art. The museum will, in particular, attempt to foster pride in Harlem's own artistic legacy.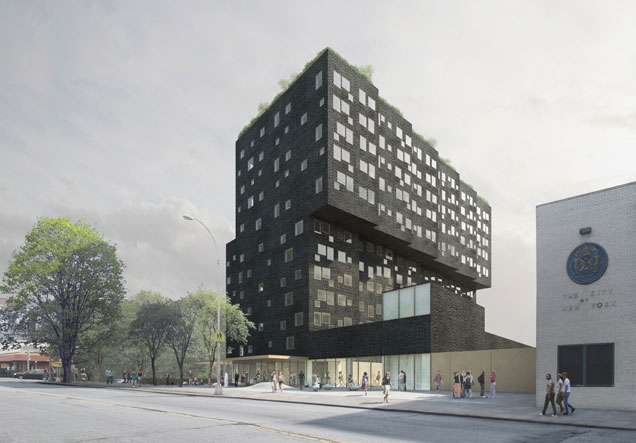 Source: Adjaye Associates
Adjaye's building is described as resembling a group of stacked gray-purple cubes, with scattered windows of different sizes and a glass-enclosed floor just above street level to house the museum.
It is hoped that work will start on site later this year and the project will open in 2012.
The client is Broadway Housing, which has overseen a string of social housing schemes in the city which are aimed at families at "high risk".
Many were living in emergency shelters before being housed by the organisation.
Sugar Hill is blighted by poverty, overcrowding, escalating housing costs and low educational performance.