Goldfinger estate reprieved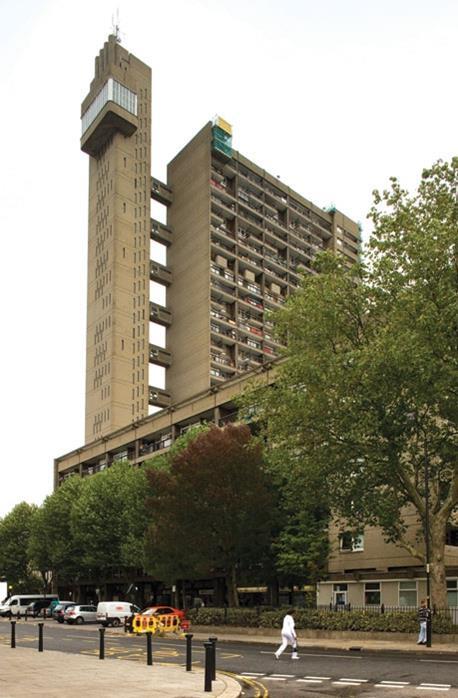 Council votes against demolishing homes at base of Trellick Tower
Residents of an Erno Goldfinger-designed estate at the base of his famous Trellick Tower in west London have successfully fought off the local council's threat of demolition.
Homeowners and tenants of Edenham Way, which is part of Goldfinger's Cheltenham Estate in North Kensington, launched a campaign to save the estate in February, after Kensington & Chelsea Borough Council commissioned a feasibility study by Terry Farrell & Partners as part of a wider redevelopment of the area's housing.
The council had already approved and carried out the demolition of the original old people's home and part of the garage complex on the estate, which includes the grade II listed Trellick Tower.
But at a meeting last week, the council revealed that its cabinet had voted against demolishing the estate in the current climate.
As BD went to press, the local authority was due to make a formal announcement to residents on Thursday, to include a consultation on finding a new use for the old people's home site.
Aisha Muhammad, president of the estate's residents' association, said: "We still need to think in terms of getting some of the houses listed to protect them in the future. But we are relieved. Quite a few of the people here have actually bought their houses.
"It is disgraceful that [Kensington & Chelsea] should have even contemplated demolishing a historic building built by Goldfinger."
The residents' campaign to save Goldfinger's estate was championed by local councillor Emma Dent Coad. It included the commissioning of a masterplan for the site from Novarc Studio.
It also involved a petition, which gathered more than 900 signatures, including that of Alan Powers, chairman of the Twentieth Century Society, which submitted a listing bid for Edenham Way in July.
Other signatories included Docomomo co-chairman James Dunnett, who worked with Goldfinger and is relieved by the residents' victory.
"To pull it down would have been outrageous," he said. "That's no way to treat the setting of one of the great pieces of architecture of the 20th century. The tower and its setting should be seen as one."