Frank Gehry defends cultural scheme for his birthplace
Toronto development 'not garbage', says architect
Frank Gehry has defended conceptual designs for the transformation of the cultural district in the city of his birth, Toronto.
The plans, which include three residential towers of up to 85 storeys, have proved controversial. Critics likened the crumpled six-storey podiums in the model to toilet paper.
Gehry said: "You have to realise that it's precarious to show projects like this and make them look finished.
"If you show any kind of architecture at these early stages that represent anything outside the norm they get clobbered, because people say, 'Well, you can't do that. You can't afford that.'
"Somebody in one of the blogs referred to them as garbage. Trust me, they're not garbage.
"It's not a final design. If you look at my work I do about 50 models. So it'll evolve but it'll have this character," he said in remarks quoted by Canadian paper The Telegram.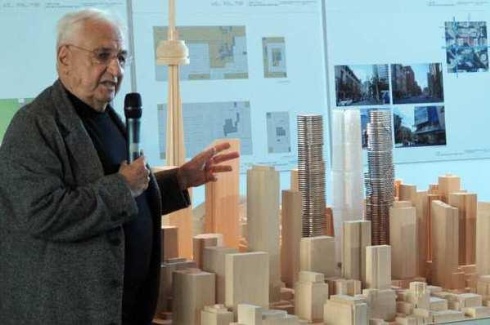 The multi-phase King Street Development is a collaboration with Canadian theatre producer and art dealer David Mirvish whose art collection will be housed in a new public gallery as part of the scheme.
The mixed-use project will also include three residential towers of 80 to 85 storeys, new public spaces, office space and new facilities for the Ontario College of Art & Design (OCAD) University.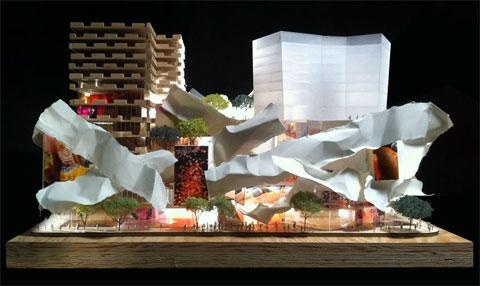 In a statement OCAD University, which will get a new 2,300sq m building, said the project was being negotiated under the section 37 of the Planning Act which permits the City of Toronto to authorise increases in permitted height and/or density through the zoning bylaw in return for community benefits.
Mirvish said: "These towers can become a symbol of what Toronto can be. I am not building condominiums. I am building three sculptures for people to live in. If I could live in [Gaudi's] Casa Mila - I know it was controversial in its day - I would consider that a privilege. And I believe I'm sharing a privilege."
In a statement, Gehry said: "It is very special for me to be able to work in Toronto where I was born and to engage the neighbourhoods where I grew up. It's especially interesting that this project involves the arts. That is always meaningful to me."