Foster's to make 300 to 400 redundancies
Foster & Partners shuts Berlin and Istanbul offices the day after it highlights profitability to staff
Foster & Partners has announced plans to make around a quarter of its workforce redundant and has closed two of its 17 offices around the globe.
Despite repeated denials by senior management including chief executive Mouzhan Majidi, who insisted just two weeks ago that the firm could avoid any cuts to its 1,300-strong workforce, the practice announced on Tuesday it was making redundancies — understood to number between 300 and 400 staff members. It has closed offices in Istanbul and Berlin — the home of one of its best known projects, the Reichstag.
Read Amanda Baillieu's opinion: After Foster's, no one is safe
The move was announced in a letter to staff, who will now undergo a 90-day consultation period, and pointed to "a significant decline in work within the practice", according to staffers. It comes less than two years after private equity group 3i took a minority stake in the business, promising to provide funds for expansion.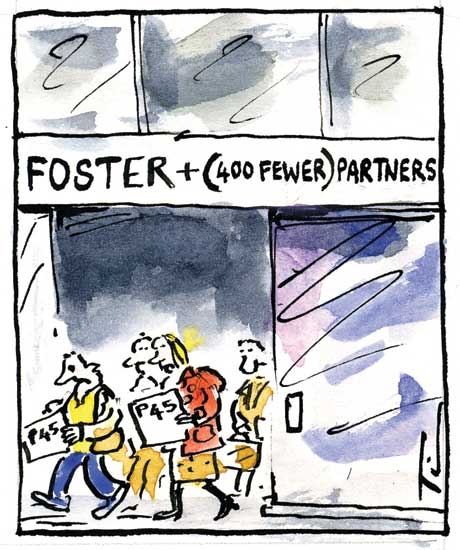 News of the redundancies sparked anger among staff, who complained that just the previous day the practice had announced it had the fastest-growing profits of a private equity-backed firm, according to this year's Sunday Times Deloitte Buyout Track 100.
Hailing this recognition on Monday, Majidi called the result testament to the strength of the Foster brand, adding: "It is a timely moment to have our financial performance and the investment of 3i recognised."
One architect facing redundancy, who did not wish to be named, said he had seen others in tears following news of job losses.
"It was out of the blue," he said. "There was no proper announcement, no meetings and — more sarcastically — we were told we were one of the largest 'profitable' companies… just yesterday."
Foster & Partners is divided into six design groups, and another anonymous staff member said that around 40% of both group six —headed by Nigel Dancey — and group three — which is run by Majidi — had been laid off, as well as a large proportion of Gerard Evenden's group five, which handles a number of schemes in the United Arab Emirates.
The closure of the Berlin office — which worked mainly on eastern European and Russian projects and is reported to employ
76 staff — is a particular blow to the firm.
Foster's is a huge name in Germany thanks to projects such as Dresden central rail station and Frankfurt's Commerzbank tower. News of the office closure there was described as "very sad" by president of the Berlin chamber of architects Klaus Meier Hartmann.
"Foster has done some very important projects," he said. "It's good to have important architects working here — good for our other architects and for the architectural culture."
Speaking to BD at the World Architecture Festival in Barcelona last October, Norman Foster insisted that the recession would not force him to cut jobs, and advised fellow members of the British profession to "stay lean and keen" to get through the credit crunch.
"I don't foresee [job cuts at Foster & Partners]. Not at all," Foster said. "Our company was born out of a period of extreme hardship so it's challenging, but it is what it is."
Foster & Partners had been climbing the list of the world's biggest practises
Top firms ranked by number of registered architects in BD's World Architecture 100

Rank 2009
Rank 2008
Practice

Architects 2008

Architects 2007
1
1
Gensler
1,360
1,216
2
4
Aedas
1,250
1,020
3
5
Foster & Partners
1,067
913
4
2
HOK
1,022
1,205
5
3
Nikken Sekkei
985
1,174
Memos from Foster & Partners: What a difference a day makes
DATE: 9th FEB
NEWSLETTER
SUBJECT: FASTEST GROWING PROFITS
Foster & Partners has been ranked number one in the 2009 Sunday Times Deloitte Buyout Track 100, with the fastest growing profits of a private equity backed firm. Mouzhan Majidi, chief executive, said: "This is a testament to the strength of our brand and the successful development of our projects abroad.
"The past two years have also seen us working in a number of new markets as well as winning a record number of competitions and awards. It is a
timely moment to have our financial performance and the investment of 3i recognised in this way."

DATE: 10th FEB
TO: STAFF
FROM: MOUZHAN MAJIDI
SUBJECT: REDUNDANCIES

A number of our international clients have fallen victim to the current economic climate and as a result some of their projects have been delayed or cancelled.
This has inevitably had a direct effect on our business and as a result the very painful decision has been taken to inform a number of individuals that their job is at risk in line with many other businesses.
We owe a huge debt to everyone whose vigorous efforts have resulted in excellence in design across the world… This decision to inform those at risk has therefore been the hardest for me personally in my career especially given the wealth of creative talent we continue to attract. Mindful of the past cyclical swings in the economy, we look forward to a brighter future.
Postscript:
For the full story see this Friday's Building Design
For more on BD's World Architecture magazine 2009, the annual exploration of the world's largest architectural practices and global economic prospects, visit www.bdonline.co.uk/wa