Foster & Partners defends estuary airport plans
Farrells says investment should be incremental
Foster & Partners has defended its plans to build a new airport in the Thames Estuary, saying it would be a mistake to abandon the plan in order to make incremental investments in existing infrastructure.
Speaking at an airports briefing at New London Architecture last week Huw Thomas, partner at Foster & Partners, said: "We have worked on three of London's four airports and believe there's no answer at any of them for extra capacity.
"Our firm belief is you need a next generation faculty, it's not about incremental building and wasting money building on previous investments."
He said if the future of airport capacity was not properly addressed, then the UK's hubs could go into decline like London's docks. "We need to stop happened with the docks moving across to countries like Belgium," he said.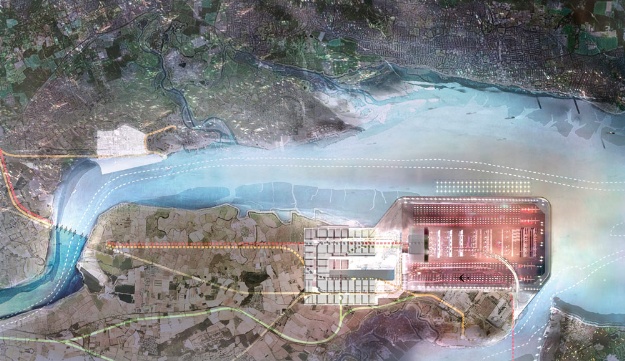 But Neil Bennett, partner at Farrells, argued that the UK should not focus on "any one solution" and instead take a piece-meal approach.
"We have to talk about capacity and connectivity," he said. "It's disappointing it's not the politicians having this debate."
The news comes as leading business organisation, the Institute of Directors, backed plans to build two extra runways at Heathrow Airport.
In a survey of 1,000 members, 27% backed the idea of expanding the west London hub compared to 13% who favoured a new hub in the Thames Estuary.
Meanwhile, the mayor of London Boris Johnson this week backed a study for extra capacity at Stansted Airport. A four-runway solution was proposed by Make Architects earlier this year.
Howard Davies' ongoing independent inquiry into the UK's airport capacity is due to report in the summer of 2015.