Floating London river park plans hit bottom
Navigational safety issues may have sunk plans for Gensler's £60m Thames scheme
The authorities tasked with approving Gensler's plans for a £60 million floating river park on the Thames that was due to have opened this summer believe the scheme has been quietly shelved.
Peter Rees, chief planning officer at the City of London, told BD that the "no contact" has been made by the architects or developer, Singapore firm Venus, since 2011. "Maybe it sank," he added.
Venus withdrew the application late last year after it emerged that the Port of London Authority (PLA), which looks after navigational safety on the river, had raised objections to the plan.
This week a spokesman for the PLA said its objections had hardened in the wake of the Queen's Jubilee and the Olympic Games.
A spokesman said it hadn't spoken to the developer "for months" and added: "The fundamental issues that were raised haven't gone away. The Olympics and the Jubilee underlined the need for clear navigation. You don't put moored structures on the river that people can bump into."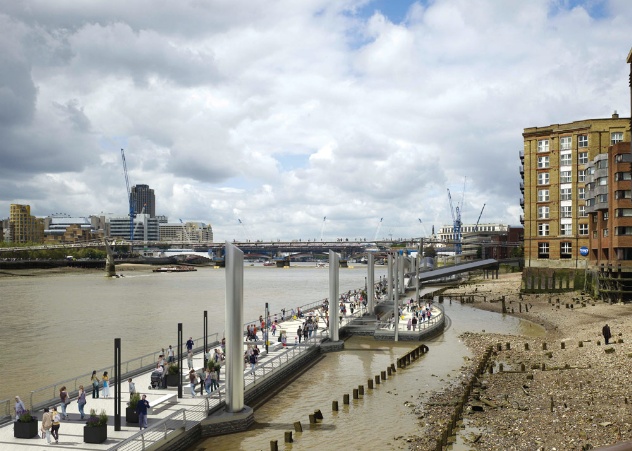 Gensler told BD it has not actively been working on the scheme since plans for the 1km long walkway – linking the Millennium Bridge with the Tower of London on the river's north side – were first submitted to the City of London last November.
Venus was also working with contractor Mace and planning consultant DP9 but, along with Gensler, both have been stood down. Earlier this year, the project's public relations firm, Edelman, stopped working on the scheme.
BD also understands that John Naylor, who was head of property and construction at Venus, has left the company in the past few weeks.
In a statement, Gensler said it was still "convinced of the merits of the London River Park concept" and added: "We have every confidence that the original vision for this major new public amenity will be realised."
Design Council Cabe and Graham Morrison of Allies + Morrison were among more than 200 opponents of the proposed scheme. Morrison called the plans "an unwelcome intrusion". The park planned to incorporate seven pavilions, including a TV studio and pool, and would have been built in two sections.
Venus declined to comment.