First look: Riches Hawley Mikhail rethinks rural housing types at Bank Hall
Riches Hawley Mikhail has won planning for 23 new-build family houses in the grounds of 17th century
Bank Hall, Lancashire, for Urban Splash, as well as renovation of the hall to provide 13 flats.
The scheme is arranged as two loose courtyards, defined by a meandering single-storey red brick wall, reminiscent of the estate's walled kitchen-garden.
The western court comprises four low-lying terraces, surrounding an orchard planted with pear trees set on individual mounds, all grafted from the one remaining 19th century pear. Houses to the north and east are provided with south-facing courtyards to the front as well as north-facing gardens – as compensation for their northerly outlook.
The courtyard to the east is more wooded and here eight "semi-attached" houses are arranged around three existing trees; an oak and two pines. With less opportunity for long views out, the houses are designed to reach three storeys into their roofs, taking views and daylight from four directions and at attic level over the tree canopy.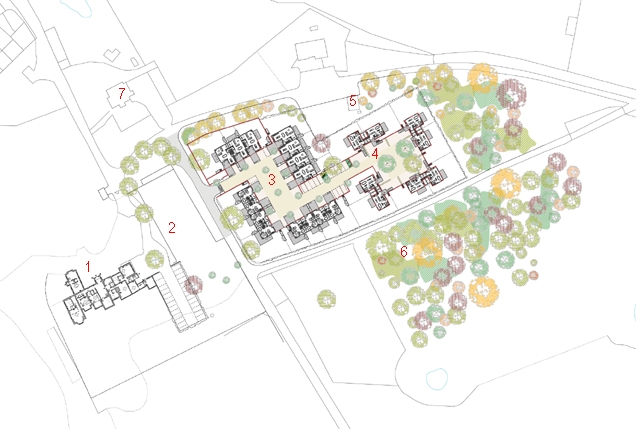 In reference to local vernacular barn typologies, the buildings are pitch roofed with masonry walls variously clad in profiled aluminium or cement sheeting.
"We are interested in how a new type of housing could develop from this rural typology, when married to the expectations of modem family housing," said David Mikhail. "Open planning, good light, views and connections to individual gardens."
The number of window openings is kept to a minimum, while oversized glazed doors within double-height areas are a reference to the large sliding doors found in agricultural buildings.