Firm takes steps for wheelchairs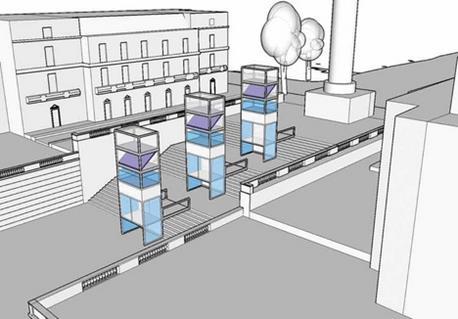 Matthew Lloyd Architects is working with the Corps of Royal Engineers to design temporary water- and solar-powered wheelchair lifts at the Duke of York steps in central London.
The zero-carbon lifts, which are part of next year's London Festival of Architecture, will only be in place for two weeks because of the sensitive location of the steps, which lead from the Mall to Waterloo Place.
They will anchor the route from Regent's Park to Lower Regent Street — nicknamed the Nash Ramblas — the brainchild of Terry Farrell and one of the main focal points for the festival.
The project, which also involves disability arts group Architecture-InsideOut and the RIBA, was made possible by the technical know-how of the soldiers, who devised the idea of a solar-powered water counterweight system.
The architect intends to make a feature of the water, which will cascade down the sides of the lifts.
Matthew Lloyd described the project as "deeply challenging". He said: "It's very ambitious but it will be an exciting thing to use. It will be fun and educational. If they work well they could be a prototype for cities. The challenge, because it's an architecture festival, is getting all the technology into these beautiful little towers."
Planning permission and funding of up to £50,000 need to be secured. The lifts will operate during the festival, from June 19 to July 4, and will then be found a permanent home.