First refurb since theatre opened in 1960
Feix & Merlin has submitted plans for the refurbishment of the Peacock Theatre in central London.
It is the first time for half a century that the theatre, part of the LSE's campus on Portugal Street, has been worked on.
The Peacock is also used by Sadler's Wells in the evenings and at weekends. The Theatres Trust described it as "arguably the best dance stage in London" and has hosted a number of musicals such as the Merchants of Bollywood.
It was designed by Lewis Solomon Kaye & Partners and completed in 1960.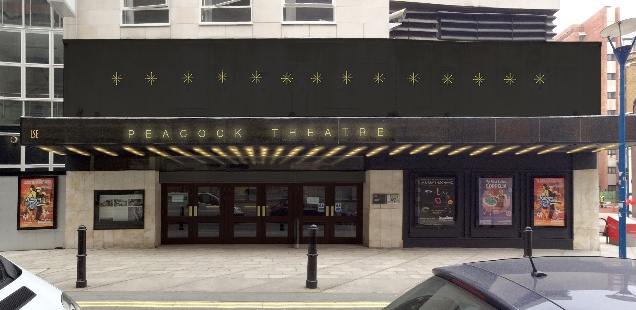 Externally the project includes colouring some of the stonework to match the existing canopy immediately below, as well as extending and reconfiguring the decorative star motif as a polished brass element.
A new matching soffit will also be installed with a grid of LED eco filament bulbs. The existing sign will be replaced with fine brass backlit lettering.
Internally the proposals include a new colour scheme, lighting and floor and wall finishes, refurbishment of existing features such as the balustrades and stairs, custom-built niches and booth seating.
Tarek Merlin of Feix & Merlin Architects said: "The last time the theatre was touched was in the 1960s so we wanted to give the Peacock Theatre a fresh new look with a striking new presence at street level."
Julian Robinson, director of estates at the LSE, said: "The Peacock Theatre was in desperate need of a design refresh. Feix & Merlin were an ideal choice – imaginative and contemporary and able to extract maximum value out of a tight budget."
The works will be phased over the next few years since the theatre only "goes dark" in August.