Fat wraps up housing, library and a school for a Rotterdam suburb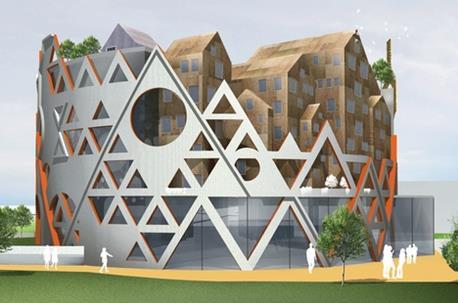 Fat has unveiled a hybrid school, housing and library development for the Hilleplein area of south Rotterdam in Holland as part of the Rotterdam Biennale
The project was originally commissioned by biennale curator Crimson, which brought together a group of clients and architects to develop projects for the event.
But Fat's scheme, which aims to mend the urban fabric of an early 20th century city suburb that has been divided by transport infrastructure, has become a real project for the Dutch housing association Woonstad Rotterdam.
The scheme includes a daycare centre, nursery and primary school alongside housing for the over 55s, a café, library and retail space in a structure meant to act as a secular counterpoint for a new mosque being built on an adjacent site.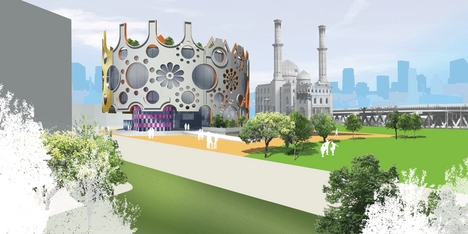 "These would not necessarily be massive constructions on their own, but together they give the building a sense of scale which allows it to become a new icon for the neighbourhood," said Sam Jacob, founding director of Fat.
"The idea comes from the housing corporation who wanted a synergy between different local services to help foster a sense of community as well as a kind of efficiency where the school can use the library and the community can use parts of the school."
The design uses a number of materials to reflect buildings around the site, including a concrete screen that wraps around the structure's facade.
It is due to be submitted for planning approval before the end of this year.