Suburban scheme delivers new apartment block and converts Victorian villa
Falconer Chester Hall has won planning permission for a scheme that will redevelop a large villa in the suburbs of Liverpool delivering 57 flats.
Under the proposals, approved by Liverpool city council, the villa in Alexandra Drive, will be extended to provide 15 apartments, while its Stable House will be demolished to provide a new block of 42 flats.
The new building, which will be five storeys at its highest, fronts Aigburth Road and will have parking and a gym on its ground floor with the apartments on its upper floors.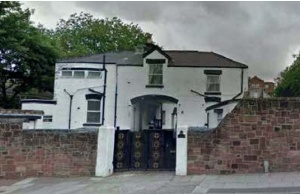 Falconer Chester Hall said the villa dated from the 1870s and had served as a care home for 50 years but was now disused.
A report to members of the council's Planning Committee said government heritage adviser Historic England had expressed no objection to the proposals.
It said the organisation believed the loss of the coach house would result in only "a small level of harm" to the conservation area, because the new building would be read in the context of surrounding modern structures on Aigburth Road, rather than the Victorian surrounds of Alexandra Drive.