Caruso St John lands biggest ever job
Practice beats 12-strong shortlist to win largest ever project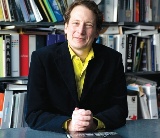 Caruso St John has won its largest ever project beating Bjarke Ingels Group and David Chipperfield in an international competition to design a £130 million ice rink and volleyball arena in Zurich.
The practice was chosen from an anonymous 12-strong shortlist that also featured practices from Germany and Switzerland. The predominantly home-based shortlist included Madrid's Alberto Campo Baeza and Paris's Dominique Perrault.
Caruso St John partner Adam Caruso said: "The amazing thing is that we got shortlisted and the judgement was made about architectural quality. Without having done a stadium before we wouldn't even get shortlisted in the UK."
Zurich ice hockey team ZSC Lions and volleyball team Volero are funding the project to provide a joint home on the Lower Isleren site in the Altstetten quarter.
Detailed proposals will be presented to the public at the end of next April. The building is expected to be completed in time for the 2017/18 season.
Caruso St John was chosen from an initial 71 applications by a 15-member jury which included Adrian Meyer, former chair of architecture at ETH Zurich, and chaired by Ursula Müller.
The win is a further boost to Caruso St John's profile in Switzerland, where the practice opened a Zurich office in 2010. Caruso St John beat an eight-strong shortlist to design a £20 million mixed-use project in St Gallen only last month while ongoing projects include an office and residential building for Swiss National Railways.