This year's worst new building, 465 Caledonian Road by Stephen George & Partners, offers a prison-like experience for student residents
One might imagine that an upside of our recent economic woes would be that fewer terrible buildings would be built. But to judge by the slew of nominations received for this year's Carbuncle Cup, this hardly appears to be the case.
Our jurors — Denise Chevin, Gillian Darley, Hank Dittmar and Owen Hatherley – quickly identified two front-runners but all six nominations richly deserved their shortlisting. To those that didn't make the grade, be consoled: you are all winners in our eyes.
Fresh from knocking down its best 20th century building – Ahrends Burton & Koralek's 1971 Central Library – the Cleveland seaside town of Redcar played another blinder in the form of the Redcar Beacon. Resembling nothing so much as the ArcelorMittal Orbit reinterpreted by a five-year-old in the medium of toilet roll and chicken wire, this viewing tower was inexplicably the winner of an RIBA competition.
Designed by Seven Architecture with project team leader Smeeden Foreman, it stands on the seafront and, as tends to be the way, the view from the top is lovely.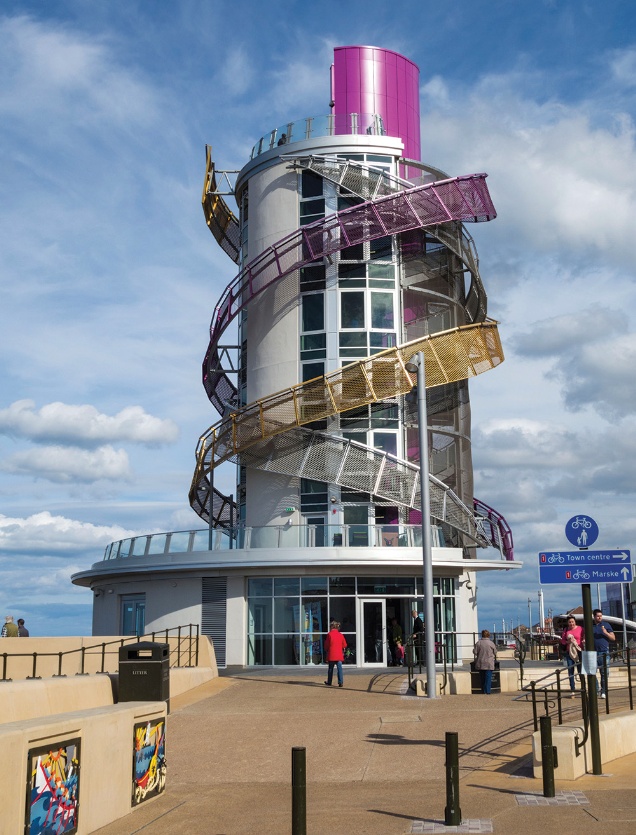 Source: Islandstock/Alamy
It might be surmised from such past winners as St Helier's Radisson Hotel (2008), Liverpool's Ferry Terminal (2009) and Salford's Media City UK (2011) that waterfront locations are particularly susceptible to outbursts of the carbuncular, and in the Porth Eirias Watersports Centre at Colwyn Bay in Wales we are presented with yet another instance.
Porth Eirias is a particularly unfortunate case as the original competition-winning scheme by K2 Architects had much to recommend it. The built design still houses the programme beneath a public terrace accessed by a ramp, but there the similarities end.
Source: Philip Smith/Alamy
The curvaceous plan has been rendered clunky while sea-oriented glazing has given way to zinc, and stonework to a curious variety of clapboard that last enjoyed popularity during the settlement of the American frontier. What was to have been a seamless transition from esplanade to roof is now a slalom of DDA-compliant ramps.
Capital punishment
The new Premier Inn in Lambeth is the work of the practice we knew as Hamiltons before it rebranded as BFLS and then again as Flanagan Lawrence. As with much of its past output – which includes the 2010 Carbuncle Cup-winning Strata Tower – the Premier Inn supports the wisdom of its impulse to cover its tracks.
The absence of non-functioning wind turbines and a sporty livery of black and white stripes does suggest a degree of development in the practice's design methodology but the Premier Inn remains a third-division performance. It is not easy to think quite where in London a 15-storey tower bedecked in grey aluminium panels might best be built, but cheek-by-jowl with a grade II listed building is certainly not it. As the project's nominator elegantly put it, the effect is to leave the neighbouring 1820s hospital "stranded in the arse end of the 21st century like some historic spaceship".
Designed by Stock Woolstencroft in a brief respite from its sustained assault on the Olympic Fringe, Bethnal Green's hilariously named Avant Garde development is from the same stable of awfulness. Both are buildings whose scale makes a mockery of the street on which they are built, while characterised by a desperate excitability of expression that suggests their architects understand that failing only too well.
The 25-storey Avant Garde is a particularly frenetic affair, glorying in half a dozen different facade treatments, none of which camouflage a fundamentally lumpen proposition. If Avant Garde is a sign of what is to come, one of the capital's liveliest neighbourhoods looks certain to be extinguished — the only consolation being that, once a forest of towers has sprung up around it, the building should be rather easier to ignore.
Oxford pipped at the post
And so to the final two. Perhaps not coincidentally, both are student housing schemes: one of the few building types that has continued to be built in large quantity throughout the downturn, and all too frequently to a level of quality that is an insult to the buildings' inhabitants.
It has to be acknowledged that, judged in exclusively architectural terms, this year's runner-up, Oxford University's Castle Mill development, is far from the worst. One might question how an institution once a patron to Wren and Hawksmoor came to see the Frankham Consultancy Group as an appropriate contributor to its built estate; but bland as the multi-disciplinary firm's efforts may be, they would not have caused anything like so much offence on another site.

No, the objections focus not on the what but the where, namely on the edge of Port Meadow, an expanse of common land held in public ownership for over a millennium. Ranged along the railway on its eastern border, the eight white-rendered blocks rise above the tree line, blocking one of the best-loved views of the city's dreaming spires. Garnering an unprecedented number of nominations, the scheme has been the subject of deep-felt anger among Oxford's residents.
So vociferous have been the complaints that the city council has commissioned an independent review into whether appropriate procedures were followed in granting permission, while the Campaign for Rural England has applied for a judicial review on the grounds that the council failed to undertake an environmental impact assessment. This may yet be one Carbuncle saga which has a happy ending.
Caledonian crowned
Although our jury argued long and hard, in the end Port Meadow lost by a whisker to a still more outrageous student housing scheme in the London Borough of Islington. 465 Caledonian Road also offers deep grounds for offence in its cavalier attitude to an historic asset but its failings go deeper: although its ultimate client is no less august an institution than University College London, it is a building that the jury struggled to see as fit for human occupation.
A large part of the site was formerly occupied by a locally listed 1874 warehouse: a structure the developer, Mortar Developments, was keen to dispense with in the interests of squeezing in an extra floor. Luckily it had employed an architect who knew a thing or two about grotesque overdevelopment: in 2007 Stephen George & Partners was awarded the Carbuncle Cup for its scarcely less offensive Opal Court student housing in Leicester. The practice's solution in Islington has to rank as the mother of all facadectomies.
The warehouse was demolished, save for the front facade, which, stripped of its windows, was propped 2m in front of the new building. The small disadvantage of this strategy was that the new windows and the retained openings did not align: of the 44 student rooms addressing Caledonian Road, more than half have no eye-level outlook. The new building rises two storeys above the facade. Again the architect had a helpful solution: it built up the old facade by a further storey, opening a run of meagre openings in the brickwork and relocating the original pediment on top.
One might hope that these compromised rooms represent the worst the development has to offer, but many of those facing away from the street promise to be grimmer still. Providing 350 bed spaces, the project is planned around a tight courtyard rising to nine storeys on its south side.
In assessing the planning application in 2009, the council identified 151 units as suffering from poor outlook and 179 as falling below the 27% vertical sky component which the BRE good practice guide indicates gives potential for good daylighting. It judged 60 units as offering inadequate privacy, with some suffering from overlooking distances of as little as 5m between windows. Noting too the design's "excessive scale, massing and bulk and incoherent elevation treatment on the Caledonian Road frontage", it duly turned the application down.
So why are 350 young people about to take up residence? For that they have Terry G Phillimore – the planning inspector appointed by DCLG to review the case when Mortar appealed – to thank. His report, available online, makes startling reading. All the objections listed above are acknowledged but effectively dispensed with in two sentences: "There is agreement that the nature of the accommodation warrants some departure from the amenity standards that would be applied to residential accommodation intended for normal domestic occupation. Relevant factors in this are that individual students would occupy the accommodation for less than a year, and that its main function would be for sleeping due to intensive daytime activities taking place at the university campus."
Those words threaten to have a wider-ranging impact, in a stroke consigning students to the status of a subspecies undeserving of the protection the rest of us are extended by planning and building regulations. If unchecked, there will be no shortage of developers ready to exploit that licence.
There is no small irony in the nearby presence of HMP Pentonville. As UCL's students take up residence, they might care to note that the prisoners are provided with a better view.