Carbuncle Cup 2011 — view all the nominated projects
Schemes by Rogers Stirk Harbour, Jean Nouvel, RHWL, Broadway Malyan, Wilkinson Eyre and Bond Bryan among nominees
—Nominations are now closed———
Nominations have begun to flood in via email and social media for this year's Carbuncle Cup with Rogers Stirk Harbour's One Hyde Park receiving the most nominations thus far.
The Carbuncle Cup remains open for nominations until July 15.
Submit your nomination in the comments below, via Twitter using #carbunclecup, on Flickr or by emailing bdonline@ubm.com
This story will be updated with new nominations as they are received.
Project name/location: The Museum of Liverpool, Liverpool
Architect: 3XN/AEW
Citation: Next to our three gently ageing Edwardian Beauties, The Three Graces, The Port of Liverpool Building, The Cunard Building and the Liver Building, they stick a trashy tart.
A building that jerks against the restrained classiscism that made Liverpool famous, that escaped the blitz, that managed to survive against all odds……….only now to look alien in their own settings.
The challenge was to use classical materials in a modern manner but here they have failed.
Travertine was the first choice abandoned for the cheaper Jura after planning approval.
Below it is the now destroyed Manchester Dock that was intact and predated the Albert Dock by 60 years.
Is it only Liverpool that thinks it can get away with destroying its history in a World Heritage Site. It is being bravefaced but it really is like giving a pretty girl a black eye, knocking all her teeth out and saying " smile you look lovely" 
Project name/location: One Hyde Park, London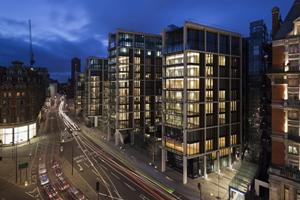 Architect: Rogers Stirk Harbour
Citation: "Great location but money can't buy you taste!"
It's no surprise that Knightsbridge has sprouted this glistening silo of sheikhs. Another towering monument to Gulf investment in London, it would always have been a mean-minded gated enclave for the super-rich,
 
What is shocking is that, after five years in the making and a £500 million construction cost, it is quite so bad.
 
Towering above the trees like a fleet of power yachts moored ostentatiously on the shore of the park, its stacked racks of clunky bolt-on balconies could have been lifted from one of the "aspirational" canal-side developments that line the waterways of Leeds or Liverpool – only vastly blown up in scale.
 
Withdrawn behind defensive barriers on both sides, the building's northern face rises out of a dingy recessed basement level, where lower duplexes open out on to a sunken patio – effectively a dry moat. Above, inaccessible granite plinths look on to fenced "visual amenity" gardens, with the barren feel of a corporate plaza.
 
Along Knightsbridge, severed from the street by 30mm-thick laminated glass screens, a series of similarly sterile gardens allow you to sit between the Rolex and McLaren shops and watch passers-by – safely protected from the dangers of Kensington's streets by the thick glass shield.
 
These desolate spaces are sealed on both sides by tall steel bars – only they don't quite fit, so the gaps have been plugged with some rather more flimsy wire, continuing the chosen vernacular of the clumsy volume house-builder.
 
Meanwhile the apartments themselves boast "the best views in London," only these views are effectively blocked by a series of vast cor-ten blinkers – designed to stop your neighbour from eyeing up your manta-ray wallpaper.


Project name/location: Queen Mary University Humanities Building, London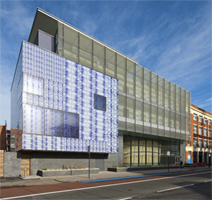 Architect: Wilkinson Eyre
Citation: not yet provided
Project name/location: St Paul's Apartments, Sheffield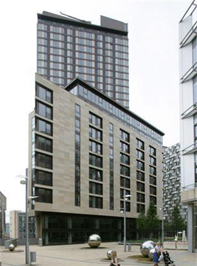 Architect: Conran & Partners
Citation: not yet provided
Project name/location: Phoenix High School Post-16 Centre, London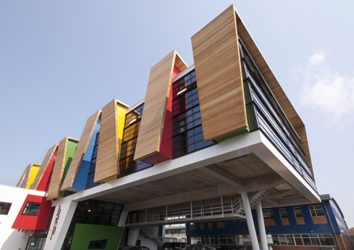 Architect: Bond Bryan
Citation: "The school seems to have been built in Jenga blocks by someone who is colour blind – in  a conservation area. No doubt the architect  will claim that the design was arrived as after  a consultation exercise with pupils : children do, of course, like to draw pictures of buildings in bright colours at funny angles but there is nothing that says architects have to build them."
Project name/location: Ayelsbury Waterside Theatre, Ayelsbury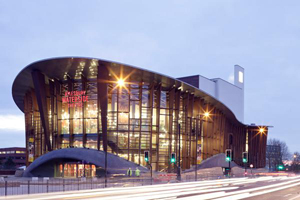 Architect: RHWL
Citation: not yet provided
Project name/location: Mann Island Development, Liverpool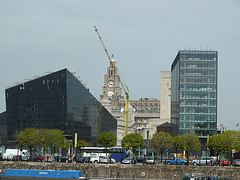 Architect: Broadway Malyan
Citation: "Just what have they done! If there was a plan to build three giant Black Coffins across The Taj Mahal or the Pyramids imagine the world outrage.

"This eyesore is in Liverpools World Heritage Site and obscures what was my most cherished view of my city. Even worse when you consider this obliteration was the view on the front cover of every book and postcard of Liverpool."
Project name/location: Trinity Walk Shopping Centre, Wakefield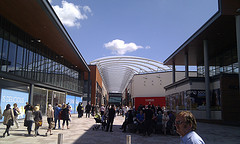 Architect: DLA Architecture
Citation: "My main critiscism of the scheme is that it has no coherent architectural language running throughout the development. I have counted a palette of approximately 20 materials. It is too busy and too fussy. It appears that all the architects and Part 1/2 students within the practice have had a go at the elevations at some point and were given a free reign on photoshop. All the shops on the 'street' have different architectural treatments (notwithstanding the specific requirements of each retailer) and there is no logic, or continuity to their implementation. The materials are random and do not follow any meaningful order which is disorientating, and creates an awkward visual experience. The party wall columns separating the shops are clad in different materials and range from glazed green and white bricks found on the London underground, to red and buff brick with recessed bands, through to quite nice grey textured tiling and rainscreen panels. Some expressed columns go full height, some stop at the head of the shopfronts while some just perch over the top of the parapet like weak turrets of a castle."

The Debenhams unit is clad completely different in black random coursed rainscreen cladding panels drawing inspiration from modern European architecture (presumably to give some retail supremacy over the other units) but again, this is decoration for decorations sake. The irregular geometry, particularly of the shopfront and its components is derived and meaningless and looks like it sought inspiration from the 2008 Beijing Olympic games stadium. The exposed steel 'features' are purely decorative, serve no structural purpose and are actually formed in powder coated pressed metal. There is nothing honest, sincere or tectonic about the whole project. Retail architecture generally consists of large decorated sheds but this scheme goes too far to try and soften the impact."

Whilst the council no doubt appreciated the architect's attempts to break up the mass and bulk of the development, it is done in such a way that renders the development fussy, arbitary and uncomfortable."

The EFTE canopy is a welcomed feature to shelter the shoppers from the rain and provides an 'inside-outside' type of space however it does not join at the corner of the 'L' on plan and the resulting gap means that in certain weather conditions, the external seating area of Costa coffee gets rained on!"

I do not have any photographs of the elevations from the car park, or the Sainsburys store at lower ground level. Again, the architectural treatments look like they were designed by a completely different practice to those of the 'street' and the Debenhams store."

With regards to the retail offer… it has not really generated many new tenants into the city. Most tenants have simply relocated from their existing shop units from the high street and the formerly successful but very dated 1980s Ridings Shopping Centre. Trinity Walk is busy, vibrant and animated with excited shoppers reeling in the novelty of it's new-ness but the rest of the city centre appears to be in decline as a result."

Project name/location: One New Change, London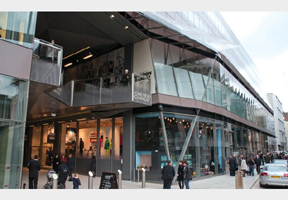 Architect: Jean Nouvel
Citation: "Jean Nouvel's recently-completed One New Change in the City is a classic piece of parasitic architecture, living off the lifeblood it sucks from its surroundings but offering nothing back. Slap bang between two Wren churches, St Mary le Bow and St Paul's, it's a smoked glass coffee table from the 1970s in a room full of Chippendale. The incision in the plan form to allow a view through to St Paul's is not so much deference to context as an admission of weakness - there is nothing internally of beauty or interest to command attention, so the eye is deflected from this poverty by appropriating St Paul's. To add insult to injury, a well-mannered, well-considered and well crafted building (by Victor Heal) was demolished to make way for it. Way to go on the sustainability front! Remarkable that an architect called Nouvel can be so screamingly old hat. The neighbouring Paternoster development, even if some of the architecture is no better, is surely a superior model of urban design than this monolith. The façade to Cheapside in particular is one of unrelieved monotony, the form, scale and massing oppressively alien to the context."
Clearly there are practical difficulties as well. David Sexton, reviewing the top floor bar (Madison) in the Evening Standard of 16 June 2011, wrote: 'to stop glare and overheating, about half of the glass is opaque, making the view from many angles seem shrouded in smog. Then again, a large section of the clear part is prominently spattered with bird poo, never a good look, but perhaps difficult to clean off, except from a helicopter?'"
So altogether a rather dire effort from an architect capable of much better."

Project name/location: Ebenezer Chapel and housing development, Brighton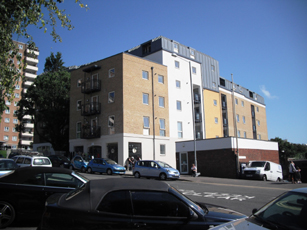 Architect: Molyneux Architects
Citation: "This recently completed block of flats by Molyneux Architects gives East Brighton yet another feeble building and reinforces the divide between rich and poor.  So bad on so many levels. Described by the architects as 'a lively contributor to the immediate locality'.  It is these mediocre buildings that damage our cities more than bolder failures."
Project name/location: Headingley Carnegie Stadium, Leeds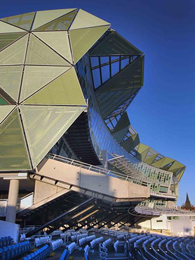 Architect: Alsop Sparch
Citation: "Awful from every angle. Lots of angles."
Project name/location: Newington Court student flats in North London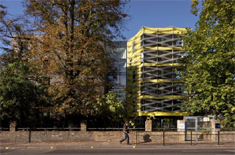 Architect: Stock Woolstencroft
Citation: "How could you possibly make a bright yellow block of student flats any more offensive? Simple, wrap it up in some steel mesh cladding."
Project name/location: Stag lane in Berkhamsted Hertfordshire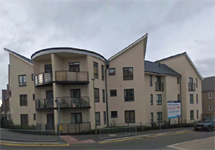 Architect: JSA Architects Ltd
Citation: This scheme represents the conflict between the local architect's desire to escape the shackles of historical pastiche and the volume house builder's inability not to provide it.
Project name/location: Billingham Forum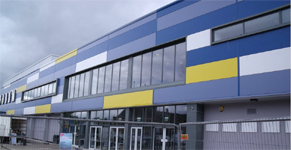 Architect: Devereux architects (Newcastle Office)
"Renovated with all the sensitivity of a sledge hammer…and its 'design' seems to have an uncanny resemblance to a poor-imitation of Westminster Academy School by AHMM".
Project name/location: Wembley Central Square Shopping Centre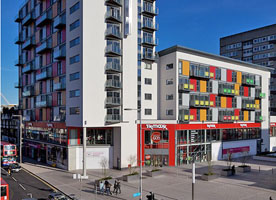 Architect: St Modwen Properties Plc and Rotch Property Group
"Wembly central shopping centre was a windswept disintegrating eyesore before this development, but at least it has cheap shops. They benefitted from the foot traffic from the tube station. Now it is a windswept new eyesore, containing several very boring shops placed so far from the pedestrian throughflow that I doubt if the get much custom at all"

Project name/location: Newport Railway Station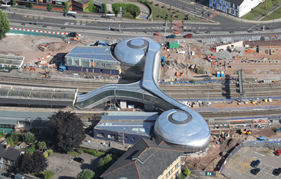 Architect: Grimshaw + Atkins
Citation:
"It is possibly not the "ugliest" building of the year - but it is surely the building with the widest gap between ambitious original aspiration and leaden banality in what was constructed, It has the potential to remain as an eyesore for a lengthy period - railway stations don't tend to get redeveloped every 30 years!
This was announced as an "iconic", world-class, gateway to the City of Newport and a catalyst for regeneration.
What has been delivered falls short at a functional level, makes the station harder to use for most ambulant travellers, and makes absolutely no impression on the arriving visitor.
The suppposedly "iconic" form of the building can only be appreciated by seagulls of those foolhardy enough to climb the clock tower of Newport Civic Centre.
It is telling that Network Rail's own promotional posters for this £22million investment show a nighttime view from the air.
Any close up view leads to a recoiling from the poverty of the detailing and the clunkiness of the way the building intereacts with its surroundings, with the curved forms not relating to any adjacent landscaping or structures.
The two service buildings constructed alongside the main concourse are pedestrian and appear to be too small for the functions crammed into them. "
Rab Lang
Project name/location: The New Woolwich Centre, London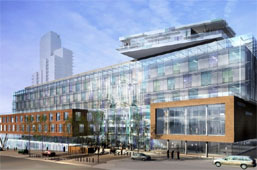 Architect: HLM
Citation: "outstandingly hideous"

Project name/location: Kings Dock, Liverpool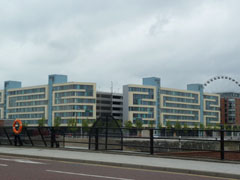 Architect: The Artisan Property Group
Citation: "It is resemblent of all the 1960s mistakes rolled out for one final call just to show what we really should not ever build again"
Project name/location: Heron Tower, London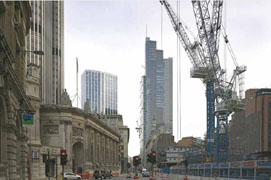 Architect: KPF
Citation: " for the subtle way it dominates that horrid little Georgian church of St Botolph. Bishopsgate, and its surrounding churchyard, just aross the road - which use up so much commercially valuable development land. (Sorry, spec developers probably don't do irony)… ."
Project name/location: Media City, Salford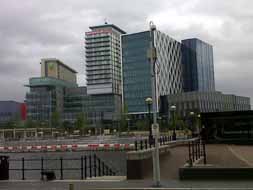 Architect:Fairhursts and Chapman Taylor
Citation:
When Howard Bernstein the leader of Manchester city council was told Salford had won the bid to build a new HQ for the BBC, he cried.
Bernstein bitterly resented losing the BBC to neighboring Salford, but now it's built there are other reasons to weep.
The buildings have been arranged to give the impression of a corporate cityscape which could be anywhere in the world. For an organization with high cultural aspirations it is hard to see how the BBC could have sunk much lower.
It's not really a case of singling out one building as being worse than another -the 15 storey dun coloured hotel and its twin are some of the grimmest– but the main BBC building is not much better.
It's as if the developer asked 'what's the best way of crushing the spirit of those people who are going to live and work here?  And someone else said 'I know let's hire Fairhursts and Chapman Taylor'. And helped by a planning authority which allow anything to be built (look at the rest of Salford) they've been utterly successful. Even the attempt at some feeble architectural gesture, like a horrible jazzy pattern on one of the commercial towers, and a canopy in the middle of the site (purpose unclear) marked by giant flag poles, seems like a cruel joke.
You can't visit Media City without remarking on the anti ram raid road blockers which negate some fairly decent no expense spared landscaping, But there's another way at looking at the decision to spend quite so much on trees and plants– which is to hide something. But don't let it fool you.