Burwell Deakins completes UCL galleries
Octagon Gallery houses a new exhibition space and sculpture by artist John Flaxman
Deptford-based Burwell Deakins Architects has completed the refurbishment of the Octagon and Flaxman galleries at University College London.
The Flaxman Gallery first opened to the public in 1851, showcasing the university's drawings, prints and models.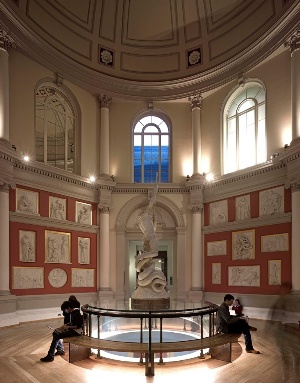 The publically-accessible Octagon Gallery now houses a new exhibition space with cases and interactive displays to showcase the university's collection, some of which has never been exhibited before.
At the heart of the project is a sculpture by artist John Flaxman. Burwell Deakins has retained the statue but opened up the previously closed aperture with a new installation that inserts a structural glass plinth under the artwork. This configuration creates views between the Flaxman Gallery on the first floor and the Octagon Gallery on the ground floor.
Burwell Deakins has also refurbished UCL's art department and redesigned the entrance to the Wilkins Library, which connects to both the Octagon and Flaxman galleries.
William Deakins, director at Burwell Deakins Architects, said: "It's extremely satisfying to see such prominent areas of the university being brought back to life, reaffirming the galleries as the cultural heart of the university. By visually linking the two galleries, it has animated both spaces whilst also helping visitors orientate themselves in the building.
"Having worked on several projects throughout the campus, it's remarkable to see the accumulative effect of the changes that have been made and I'm particularly looking forward to seeing the relationship between the two galleries evolve over time."