Broadgate given immunity from listing
Secretary of state defies English Heritage recommendation
The secretary of state is set to issue a certificate of immunity from listing for the remaining Broadgate complex near Liverpool Street in the City of London.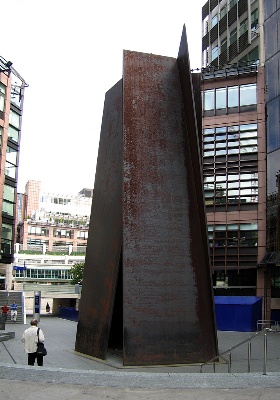 Source: Creative commons
British Land, the owners of the site, applied for the COI for structures designed by Peter Foggo of Arup Associates including Broadgate Square, No 100 Liverpool Street, the Octagon, Octagon Arcade, the 'Fulcrum' sculpture, Broadgate Circle, the 'Leaping Hare on Crescent and Bell' sculpture and all associated paving and landscaping.
Maria Miller, who defied English Heritage's recommendation that the buildings be listed, said that "no new significant information" had been provided on the buildings' architectural or historic interest since the decision not to list the complex was made in June 2011.
Since then British Land has overseen the demolition of 4 and 6 Broadgate, which is being replaced by by a £340 million for Swiss bank UBS and designed by Make.
English Heritage said: "In our view, these buildings represent an important architectural, artistic and place-making achievement. They are principal monuments to the world of deregulated high finance which help define the significance of the 1980s in British culture. 
"As the buildings are less than 30 years old and are not under threat, they are not yet eligible for listing at grade II. They would, however, have become eligible for listing in July 2015, but this will now be only half way through the five year period of the certificate of immunity."
A COI will now be issued following the 28 day period allowed for a review of the decision.
The news follows the submission of a planning application earlier this year by Arup Associates to redesign Broadgate Circle in the City of London.