Berlin music hall closed by Hitler to re-open
Lava appointed to design arts space at venue
Australian-German practice Lava has begun work to turn a Berlin cabaret theatre abandoned in the 1930s into a new cultural and arts venue.
It was discovered three years ago by developer Dirk Moritz who noticed the rundown building next door to where he was taking his daughter for a swimming lesson.
Moritz said it was hidden from the street inside the courtyard of another property and, wanting to explore further, he eventually persuaded a caretaker to let him inside. "I found an old hall, a grand ballroom, a 300sq m theatre, wall paintings and metre-high stuccoed ceilings," he added. "It was an amazing sight."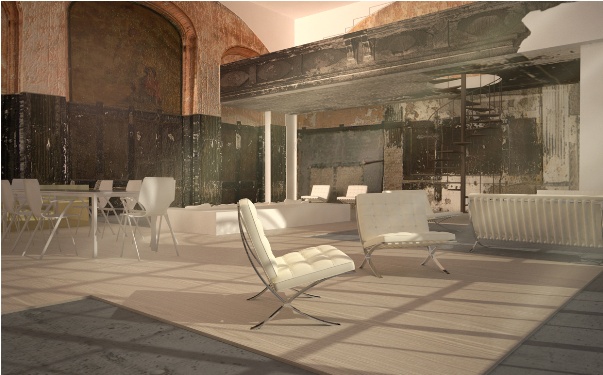 Moritz, who runs the Moritz Gruppe, which is based in Berlin, has since discovered that the theatre was built in 1905 and was known as the 'Kolibri Festival Halls and Cabarets' in the 1920s.
Moritz said there are no records of the theatre after 1934 and added the venue, which is in the Mitte area of the German capital, was likely to have been shut by the Nazis who cracked down on cabaret after Hitler came to power in 1933. Following the Second World War, the building was used to store rubble and rubbish.
The three-storey building has since been cleared of 30 tonnes of rubble and Moritz, who bought the building last year, said it will now be turned into spaces for performances and exhibitions, along with studios and luxury apartments for rental.
"Unfortunately we can't turn it back to music hall due to city regulations but we will conserve interior features," Moritz added.
Lava, which is designing a new 60,000 seat football stadium in Ethiopia, is already working on concept designs with construction work due to start next March. Completion is scheduled for the middle of 2014.