Benedetta Tagliabue wins 2013 RIBA Jencks Award
Scottish Parliament architect will give public lecture on November 19
Benedetta Tagliabue has been chosen as the recipient of the 2013 RIBA Jencks Award.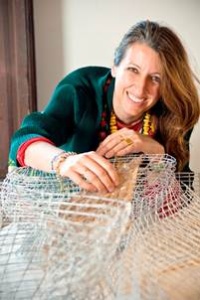 Tagliabue is a director at Barcelona-based practice EMBT Miralles Tagliabue, the practice behind the Stirling Prize-winning Scottish Parliament which she founded in 1994 with Enric Miralles.
Other notable projects include Diagonal Mar Park in Barcelona, Campus Universitario de Vigo and the Spanish pavilion at the 2010 Shanghai World Expo.
The judging panel for the 2013 RIBA Jencks Award included  Charles Jencks and his daughter, architect Lily Jencks, RIBA president Stephen Hodder, architect Farshid Moussavi, AA director Brett Steele and RIBA director of education David Gloster as non-voting chair.
Charles Jencks said: "I am delighted to announce that the judging panel of the 2013 RIBA Jencks Award was unanimous in premiating the extraordinary talent and career that Benedetta Tagliabue has had, particularly while leading the EMBT Miralles Tagliabue studio to create a tough, warm, surprising, complex and open-ended architecture that is very much like the city from where it springs, Barcelona."
The award will be presented toTagliabue on Tuesday, November 19 at the RIBA in London, where she will give a public lecture, chaired by Charles Jencks. Book tickets here.
Citation on Benedetta Tagliabue by Charles Jencks
"Think Global – Act Local". Many global architects have paid lipservice to this maxim but only a handful have lived up to the challenge and had the patience and skill to turn it into a new art. Benedetta Tagliabue, with the firm that she and her late husband Enric Miralles started, has developed a new sort of architectural practice and way of building. Taking time and incorporating the depth of complexity that only time allows, her group and loyal team have together created what has been called an "agglutinative architecture".
I wouldn't want to burden anyone with this pretentious and hard to pronounce phrase except in order to make them stop dead in their tracks, take a hard look at an urban scheme of EMBT, and think. It is made from many simple parts and put together as a 'compound idea of many forms'. It derives an ornament from this process of agglutinate design, and many constructional methods directly expressed.
It has the pleasant informal rhetoric of an adhocist approach. It presents the Time City as continual work in progress. It is tough, warm, surprising, complex, open-ended and very like the city from which it springs, Barcelona.
While other architects there have rejected, or been frightened of extending some lessons of its master, Antoni Gaudi, EMBT has honoured this tradition without letting it down. Of no other practice can that be said. The theory of EMBT is always in the practice of this 'time architecture of compounds' and the unique office mentality that Benedetta Tagliabue has continued with today.
Previous winners of the award include
2012    Rem Koolhaas
2011    Eric Owen Moss
2010    Stephen Holl
2009    Charles Correa
2008    Wolf D. Prix (Coop Himmelb(l)au)
2007    Ben van Berkel and Caroline Bos (UN Studio)
2006    Zaha Hadid
2005    Alejandro Zaera-Polo and Farshid Moussavi (Foreign Office Architects)
2004    Peter Eisenman
2003    Cecil Balmond