BD Scholarships to AA/UIC Global Workshop
Two full-tuition scholarships up for grabs at the AA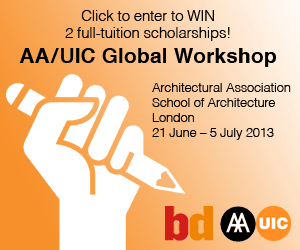 BD is offering two full-tuition scholarships to attend an AA/UIC Global Workshop, at the Architectural Association next summer.
The workshop is a collaboration between the AA and the University of Illinois at Chicago Schools of Architecture. Entitled "Campaigning Architecture" it will explore new modes of urban intervention for a hedonistic reuse and reactivation of a fatigued site in London's East End.
To apply for the scholarship please email a 200-word statement about why you want to attend the workshop, along with your current CV, to the workshop director, Kirk Wooller (kirkw@uic.edu). Please write "Scholarship Applicant" in the subject line. The application deadline is Friday, 1st February 2013.  The workshop will take place June – 5th July 2013.
Successful applicants will be notified via email by Friday, 8th February 2013. For more information please visit http://chicago.aaschool.ac.uk.