Architects' desks: Daisy Froud, director at AOC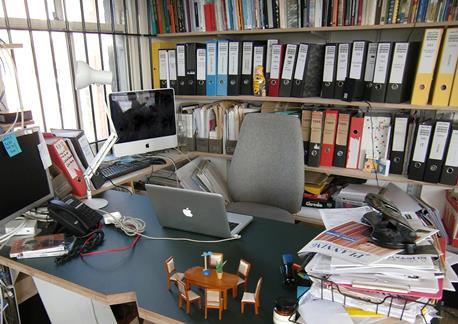 BD takes a look at the workspaces of architects
Daisy Froud said: "My desk is an Alice-like rabbit hole of a workspace, fully-lined with books, files and boxes, and with lots of useful paraphernalia within grabbing distance, from notebooks to board games, clipboards to sticking plasters, handcreams to Italian cinema.
"The window overlooks a primary school, so I work to the sound of children playing. It's a bit prison-like - there are plans to paint the bars pink or gold - but I have another much larger unbarred window opposite, facing a park, with squirrel-laden trees in the foreground and silhouettes of the Barbican towers on the horizon. 
"The three screens might suggest that I am a tech whizzkid, and they do allow me to play out Daft Punk fantasies, but only the laptop is actually mine. 
"The miniature dining suite is left over from a project. I meant to take it home for my daughter, but then grew attached to its domesticity. It always looks rather lovely in the afternoon sun."