Anger over Hull University library's pre-qualification criteria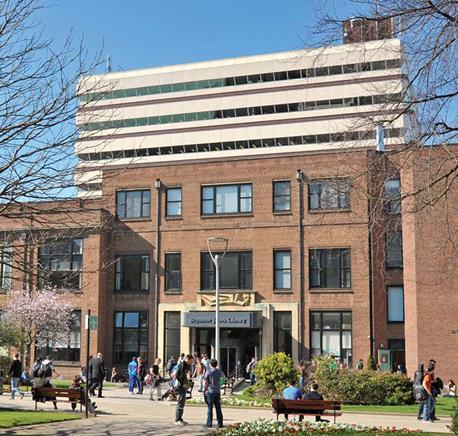 Smaller practices complain of emphasis on experience over design flair.
New questions have been raised over the scoring systems used to procure public buildings under Ojeu after a host of commercial giants were shortlisted to redevelop the former workplace of poet Philip Larkin.
Almost 90 practices applied to design a "substantive"£10 million reworking of Hull University's Brynmor Jones Library, where Larkin served as head librarian for 30 years, helping to oversee its final design in the 1960s.
But the shortlist of eight, including RMJM, Atkins, Sheppard Robson and BDP, infuriated smaller design-led practices which claimed the scoring system failed to prioritise flair and reflected a culture of "big and safe wins".
A detailed spreadsheet of the scoring, obtained by BD, showed that pre-qualification questionnaires (PQQs) and various types of previous experience including contracts worth more than £8 million made up the bulk of the available marks with only 10 out of a possible 125 marks reserved for design flair.
The row follows Rab Bennetts' complaint over the "insane" scoring system used for a new cultural centre in Manchester which saw his firm eliminated despite its maximum design quality score.
Richard Jobson, founding director of the award-winning Design Engine, which is working on an £80 million campus for Oxford Brookes University, said his 30-strong firm was on the point of giving up on the entire Ojeu process after being ranked 80th for the Hull job.
"We used to have a very good strike rate," he said, "but now it's all about health and safety. It is a total waste of time to complete PQQs when you don't have a chance. A lot of clients are asking if you have built exactly what they are wanting to build. It's an estate agent mentality."
Jobson added that the sheer number of firms chasing even small jobs had worsened the "box-ticking" approach.
Edward Cullinan Architects, named public architect of the year at last year's Architect of the Year Awards, was ranked 34th and scored just five out of 10 for design flair. Other firms such as Rick Mather Architects, Niall McLaughlin, Richard Murphy Architects and double Stirling prize winner Wilkinson Eyre were marked even lower.
"Taken with Rab Bennetts' comments, this makes you think public procurement in this country comes up with the wrong answer every time," said Cullinan partner and former Cabe commissioner Robin Nicholson.
"A lot of our money is being wasted because of questions being wrongly phrased and by not having someone who understands design involved in the process."
A winner for the Hull project is due to be announced next month with the library set for completion by September 2013.
Simon Attwell, the university's interim chief finance officer, said it had always wanted a firm with "extensive experience" of designing modern library space.