What score do you give Breeam?
Architects are growing frustrated with the system for certifying green buildings — but big changes are on the way
How do you actually measure sustainability? The battle to convince people of the need for greener buildings has largely been won, but demonstrating that you've built one is another matter. Breeam is the leading method of assessing commercial buildings — which, along with its residential equivalent, the Code for Sustainable Homes, has achieved near-ubiquity in the UK construction sector.
Both systems could be about to change. BRE, the organisation behind the two assessment methods, is consulting on changes to Breeam ahead of a planned re-launch next year. Meanwhile, the Code for Sustainable Homes is one of several standards to be reviewed by a government-appointed panel tasked with cutting the red tape around housebuilding.
Both standards have been accused of being overly prescriptive, but the extent to which they are used within the UK construction industry points to the lack of a better alternative. Is there really a more effective way of measuring the impact of our new buildings, while also encouraging innovation?
Bennetts Associates designed Five Pancras Square for developer Argent. The future headquarters of Camden Council achieved an "outstanding" rating at design stage and the highest Breeam score of last year. Director Rab Bennetts stresses that Breeam has helped improve sustainability standards by providing the construction industry with something to aim for. "For the most part it's helpful, it's very well understood and a good badge," he says.
But he also describes problems with the system: "It's become a little bit too bureaucratic. The process means people get fixated on ticking all the boxes when there are only a few that are really important. They should have a much stronger hierarchy. If something doesn't get a credit it doesn't get pursued even if it's a good idea."
The belief that Breeam has become a tick-box exercise is a prevalent one in the industry, with many citing examples of an assessment method that can prove infuriating. But Martin Townsend, director of Breeam at certifying body BRE, argues that this needn't be the case.
"Breeam has been constructed so that, if you're doing things that you feel are better, you still get credit," he says. "We introduced innovation credits so people can say, 'We think we have a better way of doing things.' The help is there so people can do something better in the spirit of what the credit is trying to achieve."
Townsend believes the effectiveness of Breeam relies on the way it is approached: "If you're using it as tick-boxes I don't think you're using it in the right way.
Illogical demands
Nevertheless, architects cite examples of the system throwing up perverse results. Jonathan Hines, director at Architype, describes one such frustrating example: "We have a building where we are trying to get energy consumption right down and also meet Breeam. The assessor wanted us to put in chilled water fountains. We argued it would be illogical because it increases energy consumption.
"We wanted to achieve the same result by insulating the pipes but you can only get the points by chilling. There's no logic to it — it's increasing energy consumption — and you can pick out all kinds of examples like that. There's no flexibility."
People get fixated on ticking all the boxes when only a few are important
In an industry so focused on the use of emerging technology and techniques, advancements in knowledge can pose a problem. "Breeam and the Code for Sustainable Homes are both excellent for where they have got to," says Simon Sturgis, managing director of Sturgis Associates, which specialises in low-carbon retrofit projects. But he feels that best practice has outstripped the assessments in some areas.
"If you're dealing with a refurbishment — let's say you're re-using the concrete frame in the refurbished building, when you would otherwise have to build a new one — the way Breeam is set up, you don't get any credit for re-using the frame," he explains.
Anna Surgenor is senior technical advisor at the UK Green Building Council. While she agrees that Breeam could be updated in certain areas, she also believes many of the problems cited by the industry are unavoidable. "Standards are created so that you can compare across the board," she says. "One Breeam 'excellent' building is comparable to another Breeam 'excellent' building. With a standard you will never win by having both a means of comparison and a way to drive innovation."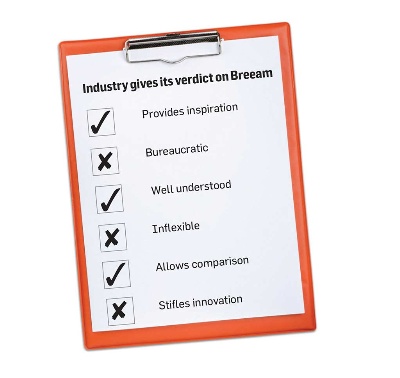 Assessing the assessors
Not everyone agrees. Kirk Archibald is director at sustainability consultancy Think Three and former head of sustainability at a major housebuilder. He's also one of four experts on the panel charged with cutting regulation in the sector. Standards such as the Code for Sustainable Homes fall within its remit, and Archibald is unimpressed.
"I'd change an awful lot," he says. "My criticism is that it's still not being thought about properly. I don't think people have the tools and information to make really informed decisions.
"I would put a lot of criticism at the door of people like BRE in terms of their assessment methodology. It is woefully inadequate, it's not centred in the real world or based on commercial realities and there is no way of introducing innovation into the process."
A much simplified version of the code is likely to form one of the panel's recommendations when it reports in the next few weeks. But what of those other criticisms? Can green assessments such as Breeam encourage innovation? And if so, how can it be done in a commercially viable way?
We need to transform Breeam from a scorecard into a design tool
Rory Bergin, partner at HTA Design, says: "I'd like to see sustainability standards concentrating far more on outcomes — setting a target for energy use or carbon emissions without prescription as to how you hit that target. That's how you get innovation."
Townsend acknowledges there are areas for improvement and outlines plans for a radical change in the way the system is to be used. "We need to transform Breeam from a scorecard into a design tool," he says.
"You will be able to play with different scenarios or work to a particular budget and find out that will get you a Breeam 'excellent' building, or whatever it may be."
He adds: "One of the things that is constantly asked of me is, 'Show me the value of sustainability — what does that mean in monetary value?'
"Making it easier to show the commercial value of sustainability would certainly be welcome to many. But the longevity that Breeam and the Code for Sustainable Homes have already shown demonstrates the value that developers already place on green certification. The sticking point seems likely to remain the definition of what exactly is "sustainable". That may be a tougher issue to tackle.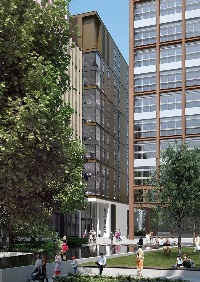 Scoring points to nobble the neighbours
Five Pancras Square, a 13-storey scheme in King's Cross, achieved the highest rating of any building in 2012 with an "outstanding" score of 93.05%.
It features angled cladding to provide shading and control solar gain, windows that will be opened at night to cool the building, and an atrium that will provide high levels of natural light.
Rab Bennetts, director of designers Bennetts Associates, says future tenant Camden Council had its heart set on the highest rating — motivated by neighbouring Brent, which had recently won an "outstanding" rating for its civic centre. "Whether we beat it is not the thing to be bragging about," he says. "What's interesting is that Breeam is seen as a competitive advantage; it's a measure of ambition and I think that's a very good thing."