West Kowloon's big performance
British firms are central to Hong Kong's new cultural district, one of the world's largest arts projects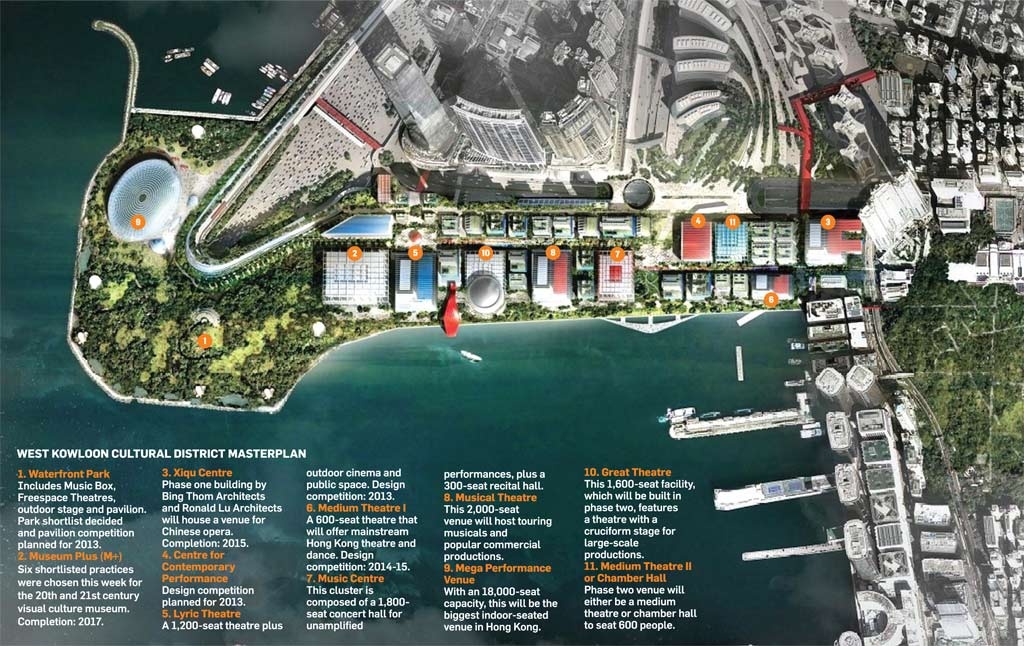 New-build arts and cultural projects in the UK next year will be a rare thing. Gone are the days of public bodies splashing cash on schemes like Rafael Viñoly's Golden Banana or Will Alsop's The Public.
But on the other side of the globe in Hong Kong, British architects and arts leaders are at the forefront of an international team to push ahead the £1.7 billion West Kowloon Cultural District — one of the world's largest dedicated cultural projects.
Foster & Partners won a competition to masterplan the 40ha waterfront site in 2011, beating schemes by OMA and local practice Rocco Design. Later that year, it unveiled its final vision for 17 venues and 30,000sq m of space for arts education alongside 20ha of open park space.
MW Chan, executive director of project delivery at the West Kowloon Cultural District Authority, is confident British firms are in a good position to compete for the work. He said almost three-quarters of the £1.7 billion budget — £1.2 billion — is earmarked for planning, design and construction, but costs for individual buildings will not be set until a design has been finalised.
Chan, who reports directly to district authority chief executive Michael Lynch, a former boss of London's Southbank Centre, told BD the search for architects to design was an "organic process".
"We're taking a similar approach to how these things are done in the UK," explained Chan. "We're not just looking for designers, we work interactively with the designers, so we're looking for firms we can really work with."
Foster's vision is for 17 cultural venues and 30,000sq m of education space
Meanwhile, a Canadian/Hong Kong joint venture was awarded the first project on the masterplan, a Chinese opera house, and a shortlist for the coveted M+ museum was released this week. Two British firms, Farrells and Benoy, made it to the final six — both in the role of executive architects. The two teamed up with Herzog & de Meuron and Toyo Ito & Associates respectively. Other finalists include Snøhetta, Shigeru Ban Architects/Thomas Chow Architects, Renzo Piano Building Workshop and Sanaa.
The scale of the 60,000sq m building is on par with New York's MoMA and the project aims for a strong public service ethos. Construction is due to start late in 2013, with a view to opening in 2017.
British architects also feature strongly on the shortlist for the 20ha waterfront park, which will include a pavilion, outdoor amphitheatre and further theatres. Grimshaw teamed up with Dennis Lau & Ng Chun Man, West 8 and ACLA while Gustafson Porter's team includes Michel Desvigne Paysagiste and Foster & Partners. Wilkinson Eyre also made the list, working with Grant Associates and WSP. A winner will be chosen in the next few months and the park is scheduled to complete in 2015.
More opportunities
Early next year a design competition for a pavilion in the park will be launched, with the aim of attracting younger firms from around the world. "It's quite a small-scale pavilion and an opportunity for those firms that can't necessarily enter the bigger competitions for the theatres and galleries to get involved," said Chan.
Design competitions for the Lyric Theatre, a 1,200-seat venue for ballet, opera, dance and musicals, and the Centre for Contemporary Performance, comprising three theatres to suit various scales of performance, are also planned for next year. "These may be international open competitions or invitation, we haven't decided yet," said Chan, who encouraged British architects to team up with local firms for projects.
"It's good to engage with local firms because the Hong Kong building regulations have lots of requirements that people may not be familiar with," he said. "They'd need somebody to help them."
Looking ahead, in 2014 architects from around the world will be invited to submit proposals for the Music Centre. This wide-ranging building will include a 1,800-seat concert hall and a 300-seat recital hall alongside arts education facilities.
Another competition, for a building dedicated to Hong Kong theatre and dance, is planned for 2014-15. And further projects, including a Mega Performance Venue and a Great Theatre, will be brought forward in time to meet a deadline of 2020 to finish the entire project.
"It's a great opportunity for architects working in the arts," said Rab Bennetts, director of Bennetts Associates, who this year travelled to Hong Kong to see the site.
"We haven't made any formal submissions yet — the Chinese opera was too specialist — but we'll definitely be looking at some of the theatres coming up next year."
Postscript:
World Architecture Survey:
WA100 2013 will be available to subscribers from December 21. To order extra print copies, go to bdonline.co.uk/whitepapers