Can the RIBA build a better framework?
The procurement process is accused of inflexibility and exclusivity. But what do the alternatives offer?
In theory, they foster better relationships between clients and architects. Some architects also claim they save time, provide certainty and avoid the need for numerous Ojeu notices. So what is it about procurement frameworks that causes architects so much frustration? And are competitions really a better solution?
Frameworks are just one of several procurement conventions that have acquired currency among clients in recent years, while invoking the ire of the architecture profession. Onerous
pre-qualification questionnaires (PQQs) are another frequent source of complaint. The way procurement processes exclude young practices is another.
A key problem is that while PQQs and frameworks are seen to offer savings to the client, the time required to enter and qualify tends to favour larger practices.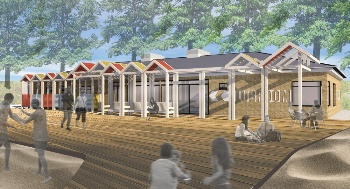 Last month the Greater London Authority (GLA) announced a framework with Transport for London for up to £30 million worth of work in the next three years. In an attempt to tackle the barriers to smaller practices, requirements such as turnover and public indemnity insurance were removed.
A spokesman for the GLA says the framework is necessary to make sure individual projects can be procured quickly. But he stresses that using a framework doesn't mean excluding small practices. "Nobody likes PQQs, but they can be different," he said. "They don't have to be really hard to get through. If you're really careful when you design them you can get the right outcome."
Luke Tozer, founder of Pitman Tozer, welcomes the steps taken. "An intelligent client does what the GLA has done and removes the turnover and PI requirements until it's awarding the contracts."
But he warns that the use of frameworks itself is often an issue. "What tends to happen is that small projects get put into a framework when they shouldn't be."
Tozer believes many projects could be procured individually, providing more opportunities for small firms while increasing the chances of finding the right architect for each job.
"At the moment we have people forced down one route almost exclusively, the PQQ route"

Walter Menteth
The RIBA recently published its report into procurement practices, Building Ladders of Opportunity, calling for a wider range of procurement practices to be used. It wants up to a third of public sector construction projects to be procured via competitions, a call that has sparked a debate among the profession.
According to its author, Walter Menteth, the charge that competitions are expensive can easily be addressed. "It's a catch-22 situation at the moment," he says. "When you have so few competitions, each attracts a massive number of entries so the cost is greater. That puts people off."
But there are other issues to be addressed. Ben Adams of Ben Adams Architects says: "More opportunities can only be a good thing. But I would like to see more transparency in how the competition is going to be run, how it is funded, what the likely outcome is going to be. I'd also like to see more opportunities for practices to win on the basis of their design expertise."
Menteth agrees that UK design competitions could be improved, and the RIBA's report offers a series of recommendations to help. If these can be implemented, Menteth argues that competitions should be considered much more widely. "What we're talking about is diversification," he says. "At the moment we have people forced down one route almost exclusively, the traditional PQQ route."