Are architects ready for a retrofit revolution?
Getting energy-efficient retrofits through planning is tough at the best of times, but the Green Deal is set to bring the issue into sharp focus
Replacement windows and external cladding have often been stumbling blocks for period properties but, with the Green Deal launching later this year, the thorny question of how to get an energy-efficient retrofit through planning is coming to the fore.
"I don't think people are talking about it enough," says Mark Elton, head of sustainability at ECD and a member of the RIBA Sustainable Futures Group, who has been researching the issue. "The risk is that it's a barrier to widespread uptake."
A key issue, adds Elton, is an inconsistent attitude among planners to external wall insulation — one of the most effective retrofit measures — which can result variously in sub-standard solutions, intransigence and sometimes off-puttingly costly and time-consuming planning procedures.
"We find completely varying responses from local authorities in different areas. A lot of areas let you go ahead without a planning application; others require you to make an application even to ask the question," says Elton, adding that this puts even more pressure on the already overloaded planning system.
"The planning industry seems ill-prepared for an influx of Green Deal-driven applications for external wall insulation. What provisions are being made to address this barrier, perhaps through standardised fast-track applications for external wall insulation?"
'In terms of achieving carbon reduction we need to do more than tinkering'
Meanwhile, architects involved in sustainable retrofit have been adopting a variety of tactics to upgrade the environmental performance of walls and windows. Bere Architects recently went to appeal — successfully — to win permission for a retrofit in a conservation area in the London Borough of Brent after the practice's first application, which involved external cladding at the rear and flank of a Victorian brick property, was rejected on aesthetic grounds. The appeal process took a year, but Justin Bere hopes the case might create a precedent.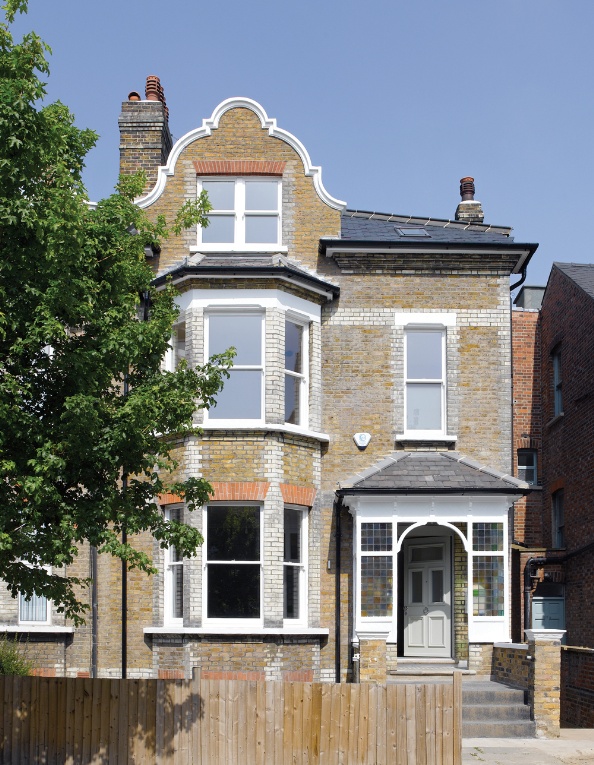 "We explained to planners the technical difficulties and risks associated with internal insulation and the poorer savings that would be achieved as well, and explained the relative difficulties and merits of the two approaches," says Bere. "We also explained that the building would look much better than it did before."
"It's [external insulation] the thing that will achieve the greatest benefit at the lowest cost.
In terms of achieving carbon reduction we need to do more than tinkering. External insulation can achieve significant and reliable energy savings," says Bere, adding that it is also reversible if another solution is found in the future.
Conservation areas are notoriously frustrating contexts for sustainability retrofits, even when the changes are at the rear, says Robert Prewett of Prewett Bizley, who has found that such projects usually run into planning difficulties.
"As soon as you propose using external wall insulation hackles are immediately raised. It's seen as an alien material," says Prewett, who expects the Green Deal to provoke much more friction and debate in this area.
The practice has, however, had success with replacement windows and Prewett says architects need to be more assertive and set out the sustainability benefits clearly.
"There's a huge amount of confusion among architects. Often they can get away with more if they are bold enough… If an Article 4 notice hasn't been added often you can upgrade glazing as long as you stick with the broad fenestration pattern.
"Court them [planners] and charm them with your meticulous designs… If all else fails, grinding them down in a battle of attrition until someone believes you aren't just doing greenwash will often get you there."
Failing that, another tactic, especially for listed buildings, can be well-designed secondary glazing — Prewett Bizley has recently developed its own Sec Vac system that gives a u-value of around 1.0W/m2K.
ECD Architects has used a brick-effect render to address the issue of external cladding changing the visual appearance of the property. But in some cases, the changed appearance that results from external insulation can prove to be a planning asset.
"It cuts both ways. Planners are only too happy to overclad buildings they don't like the look of, whether it's in a conservation area or not," says Dan Jones of Civic Architects, adding that the green agenda can generally be a powerful tool in a planning argument. "Planners feel less able to resist," he adds.
With initiatives such as the Green Deal to boost retrofit, the ability to balance sustainability and aesthetics is becoming more important than ever.
"I'd like to see a consistency in approach. Planning authorities should have a responsibility to make it clear what their expectation is," says Stephen Gleave, chair of the Royal Town Planning Institute's Urban Design Network Advisory Group and managing director of architect and planner Taylor Young.
"There is definitely a conflict between achieving quick solutions to quantifiable environmental issues and the wider aesthetically responsible agenda about the legacy of the physical place we leave behind," he says, adding that this tension inevitably increases where budgets are limited.
But it's also the responsibility of the architect — and the householder — to find a way through, he says.
"Good quality design professionals need to explain and justify why their proposals are appropriate to the context."
Postscript:
Correction: In the article of 15 June, it was incorrectly reported that Stephen Gleave is chair of the Royal Town Planning Institute urban design network. He is chair of the Institute's Urban Design Network Advisory Group.