'Garden Bridge should not be built,' says furious St Paul's Cathedral
Church says it wasn't consulted about the plans
The country's most famous church has intervened in the debate over Thomas Heatherwick's Garden Bridge, saying it should not be built.
St Paul's Cathedral wrote to Westminster council arguing it would have an "irreversible impact" on views of the cathedral.
It expressed concern about the bridge and the consultation process just days before a council planning meeting last week which eventually gave it the green light – despite Westminster's own report saying it would have been thrown out if it were a private development.
In his letter, seen by BD, the cathedral's surveyor to the fabric, Oliver Caroe, tells Westminster's team leader for its south area, Godfrey Woods, that St Paul's was not even consulted about the plans.
He writes: "Our primary reason for concern is that, after due enquiry, the cathedral can currently find no record of having been consulted on this proposal by the applicant [Garden Bridge Trust] or any of the statutory bodies who have responsibility for advising on or determining this matter."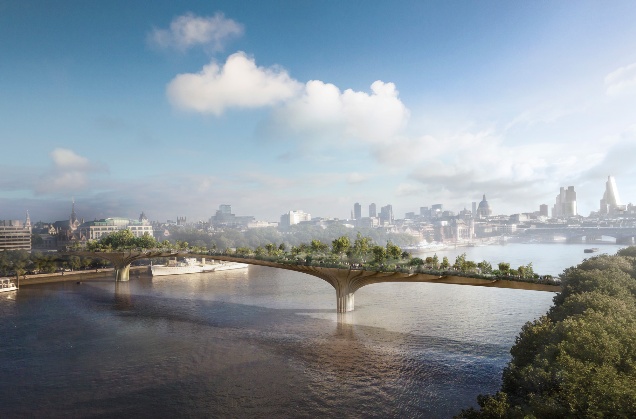 Source: Arup
Caroe, who is a director of Caroe Architecture, says building the bridge will mean "there will be irreversible impacts on some of the most iconic views of St Paul's Cathedral, to the detriment of our capital city.
"Your own report spells out the harms, not just to the protected views from Waterloo Bridge and the South Bank but also to kinetic and incidental views (both at day and at night) that London currently freely enjoys.
"The significance and value of these views does not yet appear to have been fully evaluated and understood. Once harmed, these views will not be recovered."
Caroe says that the application should be refused because the Garden Bridge Trust has not "adequately evidenced their own mitigation argument" over the damage to the views.
The trust did not provide photomontages of the new views as they would appear from the bridge before the planning meeting, something the Westminster planning officers' report said was "unfortunate".
"As defined in the National Planning Policy Framework, where there is 'significant harm' to a heritage asset, the applicant must provide a proportionate assessment of analysis and mitigation arguments," Caroe wrote.
"We would therefore contend, in the absence of a complete and well-evidenced appraisal of the harms, that this application should not have been registered. We would further argue that, without sufficient evidence, Westminster city council planning committee should now decline this current application."
And he raised concerns about the maintenance of the bridge and whether there will be enough money to look after it properly.
"Informed expert opinion suggests that there is a real risk that the Garden Bridge will not be sustainable in financial and management terms."
He said that the cathderal was worried about plants failing to grow properly or not being looked after. "Both prospects appear to be equally real," he said. "These risks are so fundamental to the question of justification for this application that we hope your committee will adopt a precautionary stance."
Robert Davis, deputy leader of Westminster City Council, who chaired the planning committee, said: "I understand the concerns about potential loss of views but there is no doubting that this bridge will bring substantial and significant benefits to London."
The scheme still has to be approved by London mayor Boris Johnson before work can start at the beginning of 2016 and be completed by the middle of 2018.