2012 media centre 'would blight Olympic legacy', says Cabe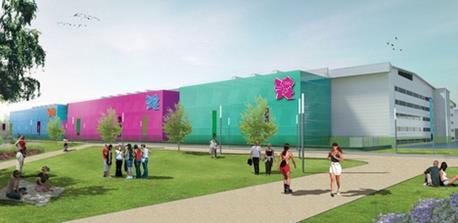 Cabe has savaged plans for London 2012's Olympic media centre, saying it is unable to support the current designs.
In a statement released today, Cabe was particularly critical of the RPS Group-designed International Broadcast Centre (IBC) in the Olympic park which will play host to 20,000 journalists during the 2012 games, describing them as "particularly weak" and a potential blight on Olympic legacy.
It said that more work was also needed to improve the "large monolithic block" of the other main media centre building, the Allies & Morrison-designed Main Press Centre (MPC).
Speaking about the broadcast centre, Cabe described the site layout as "awkward and unresolved" and criticised the "extraordinary banality" of the building itself.
"In our view it is simply not good enough," Cabe said. "We would go so far as to say that its continued presence would blight rather than enhance the Olympic legacy."
Outline planning permission has already been granted for the media centre, and the independent planning authority set up to rule on 2012 is expected to consider detailed designs within two months.
Cabe's response is embarrassing for Olympic organisers who have already ordered work on the foundations of the building to begin.
A source at the Olympic Delivery Authority pointed out the building was supposed to be functional and practical, and pointed out that over the last six months its cost – funded from the public purse – had been reduced to £355 million.
Olympic chiefs want the site to be used as a business park after the games, something Cabe does not object to. But it says for the proposal to be successful the layout will have to be rethought along with "more convincing design and landscape proposals".
"Architecturally one would also expect to see convincing design details relating to cladding, fenestration, roof design and entrances," the watchdog said.
An ODA spokesman described the media centre as "compact and efficient" and good value for money. "Work on the external appearance of the buildings is ongoing and we look forward to discussing this further with CABE and other partners," he added.