Match made in heaven
Shed KM's Matchbox building for developer Urban Splash, next to the former Bryant & May match factory in Liverpool, is a striking Miesian office block that links old and new, reports Peter Blundell Jones. Photos by Morley von Sternberg
You do not stop to think about where it comes from when you strike a match, but the name Bryant & May is probably familiar, and the matches used to be made at Garston near Liverpool. The firm's factory of 1918-21 was an early piece of reinforced concrete construction by Mewes & Davis, with engineer Sven Bylander, architects to Cunard and the Ritz.
Predating Owen Williams' famous Boots factory by 10 years, it had impressive mushroom-headed columns and large areas of glazing, but was decorated at the front with panels of tiles and ornamental roses on reduced capitals. Dominating the central axis was a great circular water tank jacked up on legs behind the main entrance. This not only provided a centre to the composition, but was the actual means to douse an accidental fire and a reminder of this constant danger, a combination of functional and symbolic expression.
The factory closed in 1987, but the building had been listed. It attracted the attention of Urban Splash, the trendy Manchester designer-developer that made its name converting industrial buildings. In 1998 Urban Splash commissioned architect Shed KM to produce a masterplan. This included rehabilitating the factory, knocking down later additions in front, and adding service pods to the rear. Careful editing of the original fabric and simple, clear, well-detailed additions made for an effective combination of new and old. New users were happy, the sense of place was enhanced, and awards were bestowed in 2003 by the Civic Trust and the RIBA.
The Matchbox, the recently completed Matchworks phase two, is a completely new building. It is located on a leftover corner of the site next to the main road, which originally housed the supply reservoir for the fire-fighting system. This irregular position prompted the architect to stress the new building's independence by treating it as a self-sufficient object and placing it on a diagonal axis aimed at the factory's entrance. As a corner beacon for the whole, it needed to be in sympathy with the old factory yet make a new and progressive statement. Its strict square geometry stands for the rationality of the whole grid-planned site, while it also exposes for full celebration the new vocabulary already present in the conversion. This juxtaposition seems convincing, and the site is all the better for it.
The new building's concept is Miesian, with an apparently rational expressed steel structure and central service core. It is also Miesian in terms of intended flexibility, for though Urban Splash would prefer to let it to one company, it can be divided by floor or even accommodate two firms per floor. The offices are open plan, with the perimeter entirely glazed using the largest glass sheets available. Proximity to the noisy main road precluded opening windows, and the whole thing is air conditioned through the core. The usual thermal problems of identical north and south facades are solved with double-glazing, glass coatings, and motor-driven external blinds on all sides with adjustable slats. These are manually controllable, so it will be up to users to prevent summer overheating.
Like Mies, Shed KM has made the floors identical, solving the problem of ground floor and entrance by raising the whole building on a cantilevered concrete base and entering vertically via the core. In other words, although it is only three storeys, it is a point block. The face of the base shows itself only on the entrance side, the rest being protected, castle-like, by an artificial mound.
Shed KM also follows Mies in its preference for a square plan, but without going to the difficult extreme of a structure spanning equally in both axes, even though the front and side facades are identical. Abandoning an earlier version with three bays and a square central core, the architect settled for five bays each side and a core one-bay wide by three long, traversing the building but keeping the small central hall square. Inevitably structural, the core carries the inner ends of the exposed steel floor beams which run front to back, so front and rear columns carry the main spans, while the side columns, which are treated identically, just carry the side beam and its half bay of floor. The columns immediately next to the core, which could have been omitted, are there for purely aesthetic reasons.
Also purely aesthetic is the external frame, which could have carried substantial loads but is in fact a mask, serving only to embrace a zone for the blinds. As a piece of tectonic fiction it represents the geometry of the building in its purest and most ideal sense, for the bay spacings outside are even, while on the inside they are reduced to make the corners. Shed KM has thought this all through with precision. The detail is careful, especially the internal column heads which transform to cruciform before meeting a fixing plate, forming a kind of capital.
Within the offices, raised carpeted floors hide service voids, but ceilings show naked precast concrete planks spanning between main steel beams with all the services added as a visible layer. Not only does this result in a more honest ceiling, avoiding horrible suspended systems, it also leaves the concrete structure available for heat exchange. The concrete walls of the core are naked with the shuttering holes carefully positioned and expressed, the stairs attentively detailed with precast treads incorporating lenses and with stainless steel handrails. Looking at the architect's isometric projections or leafing through computer plans showing layers of construction and equipment, the enjoyment of a neat interlocking system of consistent parts is palpable. It is all about prediction and control, everything in its place and properly worked out.
But is this sense of perfection appropriate? Visiting the building today catches it in a curious limbo, lacking interaction with life and all the mess that entails. This just stresses the gulf between the processes of development and of habitation. Who will work there and what will it really be like? The prominent position and the quality of the architecture seem to suggest a rather high-profile client, giving a privileged vantage point to gaze on the world and allowing more advertising exposure than the humbler outfits in the converted factory. A couple of years ago there were hordes of entrepreneurs flexing their muscles and demonstrating their power and pride in the giddy rush towards endless growth — but now? And as for sustainability and embodied energy, best not look too far: just remember that the project has been running for 10 years.
Shed KM's top four office references
Weekend House, Craig Ellwood, California, 1967
As a box suspended over a cleft landform, the Matchbox draws on Craig Ellwood's Weekend House in concept — a steel structure, stripped bare. Paul Heyer called it "the ultimate dramatisation of living within a steel structure". Ellwood's design was originally developed as a model for students, with the emphasis on structure and detailing. It's a long way from southern California in 1967 to Liverpool 2008, but there is no doubt that imagery lingering from this project, and from Craig Ellwood's lecture in London more than 30 years ago, has had some influence.
Villa Valmarana Bressan, Palladio, Venice region, Italy, circa 1542
Symmetry, whether overall or for minor elements, is familiar to Shed KM. Palladio's early work has a simplicity of form and detail that can appeal to modernists. Villa Valmarana is such an example. A long, almost shed-like form under a pitched roof is entered on an axis, the entrance arch enhanced by two round clerestory lights (a traditional farm building motif in the region). To argue that the Matchbox is influenced by this is tenuous, but two round holes in a blank wall either side of the entrance give a particular character to the building which is not easily forgotten.
Seagram Building, Mies van der Rohe, New York, 1958
Every time a pure steel grid on a symmetrical building is conceived, Mies van der Rohe's Seagram Building comes to mind. Working drawings of that project, shown at the Manchester School of Architecture in the early 1960s, exposed in detail the fact that the frame you see is not the frame that holds the building up. The Matchbox is like this: everyone asks is that window or is it structure? The answer: neither. The robust silver frame, with the layer of external blinds and the layers of glass all standing in front of the structure, give the building its unmistakable presence.
The House at Viganello, Mario Botta, Swiss/Italian border, 1981
Italian architect Mario Botta has always been an inspiration for his plan forms and building presence, even if sometimes he seems to find detail and form hard to accommodate. His House at Viganello, which is shown here in its dramatic setting, with its purposeful siting, confident symmetry and presence, has provided long-lasting and powerful imagery for the practice. Although it in no direct way relates to this project, Shed KM has attempted a similar boldness in relating the new build to the old Matchworks.
Specification
Merseyside ship repairers
Given the downturn in shipping at the once great port of Liverpool, local metalworkers have turned their talents to architectural steelwork. Local outfit MSR has experience both on land and in water and can use this alongside the design team to create exquisite steel details.
Specialist joinery services
SJS created specialist joinery items on the job including the rather stunning red tea points. The specialist company also undertakes entire fit-outs and has an extensive workshop that can undertake all kinds of spray, lacquer and Corian works. ian@specialistjoineryservices.co.uk
OJ Taffinder Glazing
A major feature of the Matchbox is its glazed facade. Specialist glazer OJ Taffinder worked closely with the design team to design and deliver the massive glazed sections, 2,460mm wide x 3,400mm high, glazed using 19mm glass with a 16mm argon-filled cavity then 10mm glass with a low E coating.
The architect's enjoyment of a neat interlocking system of
consistent parts is palpable
Adana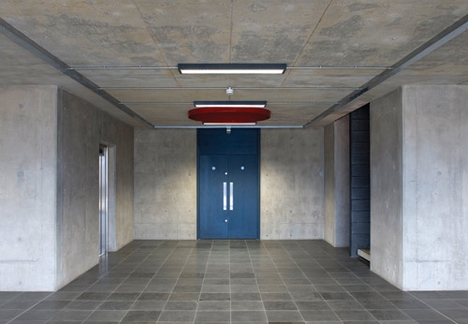 Specialist concrete sub-contractor Adana worked alongside the design team to deliver a sharp and highly polished concrete finish. The long established company undertakes all kinds of civil works.
Levolux
A key component of the Matchbox environmental strategy was the manually controlled solar louvres. The company produces a range of vertical and fixed louvre systems. www.levolux.com
Luxcrete Steps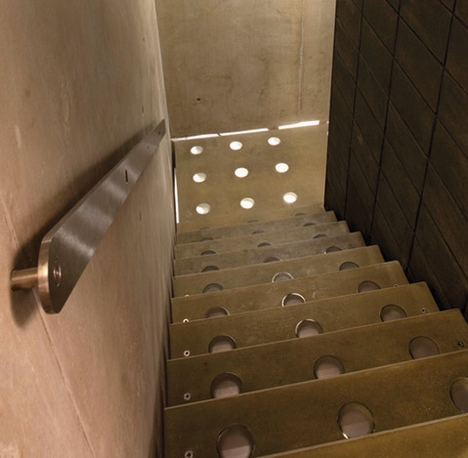 An interesting feature in the building are the prefabricated concrete steps with frosted glass lenses. Bottom-lit, they create a runway-type effect as one travels down the staircase. Circular lenses were chosen for this project, although the company can produce a whole range to designers' specific demands.
The steps were 1,090mm long x 280mm wide x 100mm deep with three frosted glass lenses and the landing was 2,340 long x 1,115 wide with 18 glass lenses. All of these panels are bespoke, so can be manufactured to any dimension. www.luxcrete.co.uk
Integrated emergency lights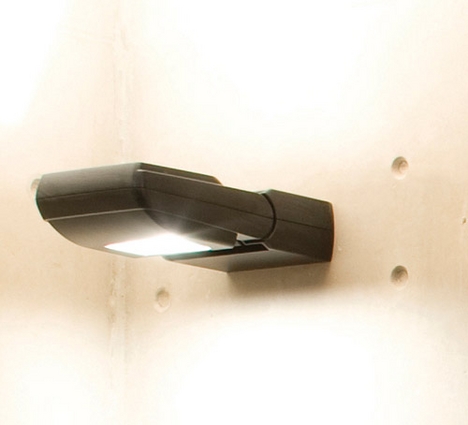 A key component in the Matchbox's reductivist palette was the demand for feature accommodation lighting that doubled up as emergency lighting.
The architect was able to source a black lamp with a direct and indirect light source that could also accommodate an emergency battery pack. Lamps & Lighting, Tel: 01282 448666.
Hyatol windows
Hyatol specialises in aluminium-framed circular windows. These come fully glazed and ready to fit with a secure locking mechanism. The windows are also able to accommodate an opening light. They are available in any diameter up to 1,500mm and in any colour.
Postscript:
Photos by Morley von Sternberg