Maggie's Centre's Laura Lee on the healing power of architecture
Laura Lee has commissioned some of the world's top architects to design the Maggie's Centres, and along the way she's discovered the importance of architecture
Laura Lee is the client for some of the most distinctive buildings in Britain. She has worked with more "starchitects" (although she hates the term) than most. Yet, by her own admission, she knows little about architecture — and she used to think that buildings were not important.
To infer from this that she was not fit to do her job, however, would be a grave error. Lee has commissioned the buildings as chief executive of Maggie's Centres, the charity that is fulfilling the vision of the late Maggie Keswick Jencks to provide a different kind of facility for people with cancer. She has absolute belief in the services she provides, and has built up a large and high-profile charity. Along the way, she has learnt the importance of architecture.
"I still didn't think it really mattered until the first centre opened," she says. "I thought the important thing was that people got an expert who knew what they were doing. But then people came in and talked about the building in an emotional language. Some said it was as if the building was hugging them."
Lee was manager of that first building, designed by Richard Murphy in the grounds of Edinburgh's Western General Hospital. She had been Maggie Jencks' cancer nurse and they became friends. Jencks inspired her with her vision of a place where people with cancer could go for information and support in a friendly, non-clinical environment. Later, Lee was one of the interviewing team for the manager's job; when there were no suitable candidates, she put herself forward.
Nobody knew if that first building would be a success, but it soon proved too small. Then other groups started asking for something similar, and Maggie's Centres took off.
"We didn't want to give them an Edinburgh import," Lee explains, so she appointed Page & Park to convert an existing building — and with the exception of Page & Park, which also designed a new building in Inverness, no architect has worked on more than one.
The list of architects is extraordinary.
Frank Gehry and Zaha Hadid have completed buildings in Scotland, and Richard Rogers designed the first English building, in London. Future buildings will be by Rem Koolhaas (Gartnavel, Glasgow), the late Kisho Kurokawa (Swansea), Piers Gough (Nottingham), Foreign Office Architects (Newcastle), Richard MacCormac (Cotswolds) and Wilkinson Eyre (Oxford). Yet, says Lee, "it hasn't been about celebrity architects. The reason Frank did one was because he was a great friend of Maggie's." Lee and Marsha Blakenham, the painter and potter who was Maggie Jencks' best friend and is vice-chair of the charity, asked him to recommend an architect for the Dundee building, and he volunteered.
Lee says: "We're looking for architects who have an interesting and thoughtful human response." Neither does she find the stars starry. "I sat with Rem just before Christmas at a kitchen table," she says. "He wanted us to go through his design with him, room by room." Koolhaas painted his design, based around a planted courtyard, on the carpark outside his office for his staff to practise moving round the space (but wouldn't, sadly, release any images).
Koolhaas is also the first of the centres' architects to incorporate curtains in his design. In fact, Lee thinks that the lack of conventional feminine interiors is a great by-product of the architecture, as it makes men more comfortable. "The architecture provides an entry for the men," says Lee. "They come in to look at the building."
So how does she find her architects? "Piers advised me not to be a lazy client — 'Don't do competitions'," she says. Instead, she and Blakenham use interviews and word of mouth. Recently they were trawling the AA library for ideas on younger architects.
With the spread into England (Lee has lived here for the past five years with her oncologist husband), there could be plenty more appointments. Every project has to be set up and supported through fund-raising, but there are about 40 cancer centres across the UK. "There could be a lot more to do," says Lee. And work for many more architects.
Maggie's Centres: the first and the future
Maggie's Centre Western General Hospital
Edinburgh
Opened 1996
Maggie Jencks chose Richard Murphy to design the first, and smallest, centre, at Edinburgh's Western General Hospital. Adapted from an old stable block, it had many of the features which have since become standard: high-class design at a domestic scale, no reception desk, no private offices for staff, and a kitchen table at the heart of the building. Murphy was called back to design an extension, as the centre's unexpected success meant it soon became too small.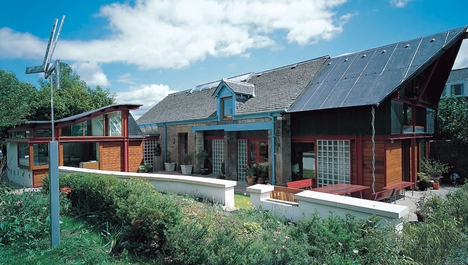 Maggie's Centre South West Wales
Swansea
Future project
Maggie's Centres is in the process of raising £3 million through its Joy of Living campaign to fund this building at Singleton Hospital, overlooking Swansea Bay. The late Kisho Kurokawa, another friend of Maggie Jencks, designed this spiralling building. Based on the concept of a "cosmic whirlpool" it separates the built spaces with water and streaks of light. Kurokawa's practice will take forward the project, in association with local architects.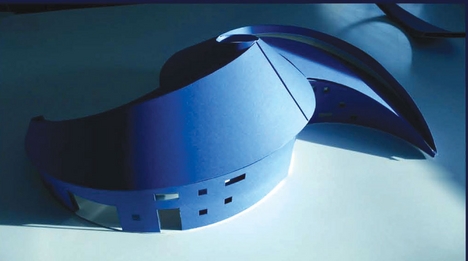 Maggie's Centre Oxford
Future project
Wilkinson Eyre has designed this building to be constructed on a sloping site at Oxford's Churchill Hospital, which will be built when fund-raising allows — one of the design team has raised £1,000 with a skydive. Lifted on columns so that it sits among the treetops, the shallow glazed building has the air of a garden pavilion. Like all other architects designing for Maggie's Centres, Wilkinson Eyre has no experience of healthcare design.
Maggie's Centre Nottingham
Nottingham University Hospitals NHS Trust
Future project
Designed for a sloping wooded site in the grounds of the City Hospital, this 12m by 12m two-storey "curvy box," designed by Piers Gough of CZWG, cantilevers in all directions from a podium. The kitchen is set down half a storey to give it a loftier ceiling. Gough says: "It's just a building without any fuss. It's trying to be fairly economical." Cladding will be in yellowy-green glazed ceramic tiles, the corporate colour of the Maggie's Centres.
Maggie's Centre North East
Newcastle
Future project
Maggie's Centres appointed Foreign Office Architects to design this building next door to the newly built Freeman Hospital in Newcastle upon Tyne after interviewing a number of practices in a deliberate search for younger talent. The building is designed as a continuous landscape, with the curve of the building's green roof echoed in the external spaces, in a design that is intended to enhance the users' interaction with nature.