Into the unknown
Confidence is down in the Middle East and Europe, while growth prospects are stronger in China, India and North America. But then, it's not been a good year for predictions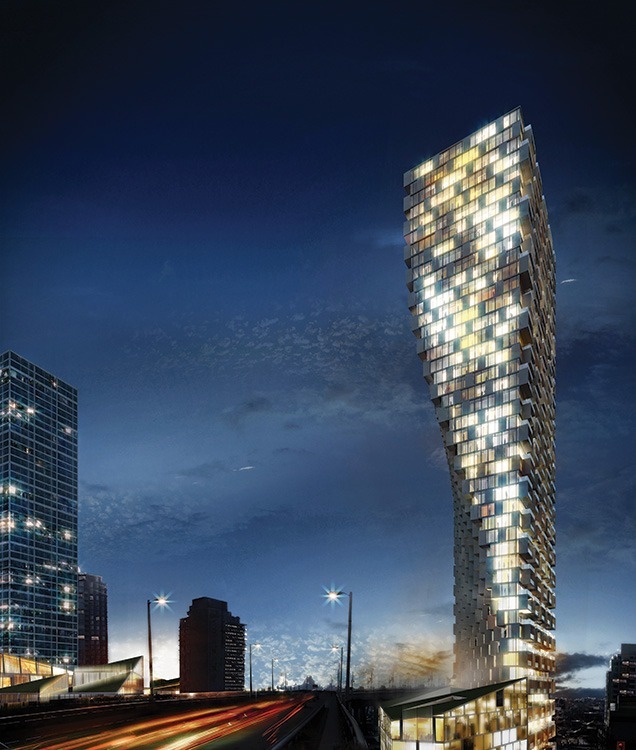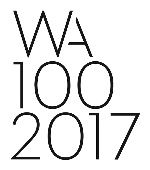 The atmosphere around the World Architecture Festival, held in Berlin last month, will have been brittle, if the results of Building Design's latest survey of the globe's biggest practices is any guide.
Less than two-thirds (60%) of the practices that completed this year's World Architecture 100 survey expect to see growth in the global construction market over the next 12 months. Another third (32%) expect stagnation with 9% forecasting a decline. By contrast, a year ago, three-quarters of global practices were bullish about prospects for the global market.
Middle Eastern uncertainty
Perhaps it is not surprising that confidence is more muted this year. While most architects believe that China continues to offer the best prospects for growth, the pace of development in the world's second-biggest economy has slowed down.
This, in turn, has helped to depress activity in the oil and gas dependent Middle East – that other motor of global construction activity since the millennium. Confidence in the region's prospects is down, with just over half (52%) of practices reporting that they expect the Middle East will grow this year.
Jack Pringle, managing director of Perkins+Will's European and Middle East operations, says the Gulf has yet to rebound from the collapse of oil prices in late 2014. "The oil price bit and we saw big publicly funded Middle East projects grind to a halt."
Cultural projects in particular have suffered, especially those that are not linked to a showpiece event like the Qatar 2022 Football World Cup.
If the oil price drops by 75% and the payments are very slow, it isn't the client's fault necessarily

Matthew Streets, Foster + Partners
And the slowdown hasn't bottomed out yet. In November, Saudi Arabia's Council of Economic and Development Affairs announced the cancellation of $266.7bn worth of projects.
The exceptions to the clamp-down, Pringle says, have been health and education projects where Middle Eastern countries have strong incentives to improve their facilities. "They are sending a lot of people to the West to be cared for and educated, which would be cheaper there."
However, he says, Perkins+Will is cautious about expanding its Dubai presence. "We're happy with 100 in Dubai and we think we can support that. We're not particularly interested in expanding numbers too much. If we have more demand, we would soak it up from London or elsewhere."
In a region like the Middle East, it is important to be patient, says Foster + Partners managing partner Matthew Streets. "These are very different cultures and you have to behave accordingly. If the oil price drops by 75% and the payments are very slow, it isn't the client's fault necessarily, it's a function of macro-economic events."
This approach has paid off for Foster in 2016 with revenue from the region up strongly year on year.
CallisonRTKL chief executive Lance Josal is also optimistic about the Middle East, which he describes as the "brightest star in the firmament right now". After investing heavily in the region, the practice is now attracting more revenue, including projects in the Egyptian capital, Cairo. "Some of the revenue drop that we saw in China is being picked up in the Middle East."
The Australasian market also appears to be feeling the ramifications of the fall in resource prices, with the proportion of survey respondents predicting growth or stagnation in 2017 nearly counter-balancing one another.
Similar factors help to explain weakening confidence in South America, where the region's erstwhile powerhouse economy Brazil has plunged into recession. Just a third of practices predict that Latin America's construction sector will grow in 2017 with more than half (56%) predicting stagnation.
European stagnation
Europe, given its dependence on imported fuel, might have been the region expected to benefit most from the collapse in energy prices. The continent's markets remain mired in Eurozone stagnation though, despite the European Central Bank's quantitative easing stimulus package, unveiled earlier this year.
Just 28% of survey respondents expect the western European construction market to grow next year, which is down even on last year's subdued 41%. Sixty-one per cent and 10% expect stagnation and decline respectively.
If I was to hire 100 architects over the next two years, it would be more likely to be in India than the UK

Jennifer Dixon, Aecom
The gloom is even more intense in central and eastern Europe where more than half (57%) of respondents believe the region's construction market will stagnate and 14% reckon it will decline.
This mood is likely to have been exacerbated by the result of the UK's vote to withdraw from the EU, which is expected to hit growth across the continent (see The Brexit Factor, below).
The survey's findings about Europe chime with Streets, who says: "Mainland Europe has been quiet for some time." Jennifer Dixon, EMIA architecture leader at Aecom, says the company remains circumspect about increasing its staffing levels in Europe, preferring to call in its Indian and Middle Eastern workforce to plug any gaps when they emerge.
But even the Eurozone's Mediterranean countries won't be down and out for keeps, believes Doug Wignall, president of HDR. He predicts that pressure for new social infrastructure, such as heathcare facilities, will create the conditions for a boom within five years in countries like Greece and Italy.
"Mediterranean Europe will have to respond eventually because they can't do nothing forever. The pressure is already building and these are basic things you need to provide for your people."
Signs of life
In similarly energy-poor India though, the picture is rosier now. Exactly two-thirds (66%) of architects predict growth, heavily outnumbering the 6% who forecast decline across central and southern Asia, which is dominated by the world's second most heavily populated country.
David Thom, president of IBI, says that his firm's decision, following the sale of its Chinese operation, to focus more on India has "really paid off". Over the past year, IBI's Indian headcount has more than doubled from 25 to 60.
Dixon agrees that India's growth prospects are good. "If I was to hire 100 architects over the next two years, it would be more likely to be in India than the UK."
However, while India is a growing market, it remains relatively small in global terms, cautions Keith Griffiths, chairman of Hong Kong-headquartered Aedas. "There's definitely growth in India but it's very difficult for international architects to do work there because the cost base is so low and usually not cost-effective."
The same is hardly true for North America though, which stands out as the bright spot in the WA100 survey. Just over three-quarters (76%) of survey respondents expect to see growth in 2017 with just 3% forecasting declining workloads. Eighteen per cent of respondents rated the US as the country with the best growth prospects in 2017, marginally behind China.
Pringle says Perkins and Wills' North American operation is "going gangbusters".
"The US market is for the most part back," agrees Wignall, who is particularly heartened by the uptick in fit-out work for corporate clients. "When you see the corporate market pick up that's good in general because it typically means there is a little liquidity in the market."
However, given that this survey was carried out before the election of Donald Trump, with his pledges to raise international trading barriers, US practices may not be feeling quite so bullish now …
What are your feelings about the health of the global construction economy in the next 12 months?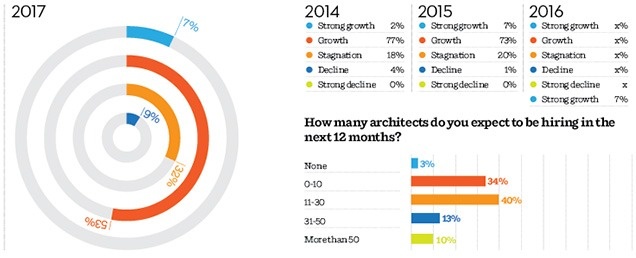 What are your feelings about the health of the construction economy in the following areas in the next 12 months?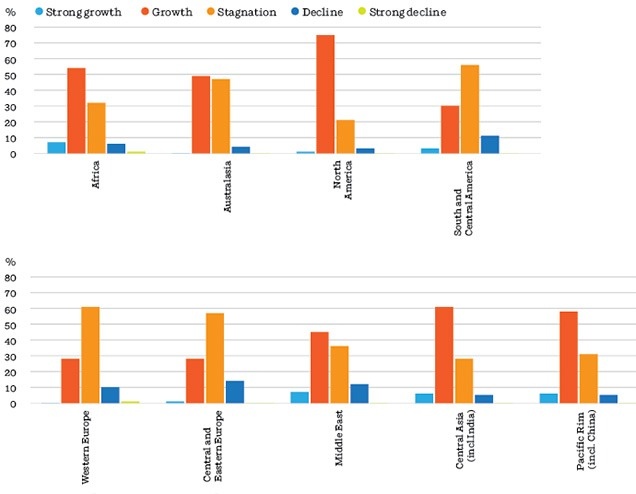 Which country offers the most growth potential for architectural services?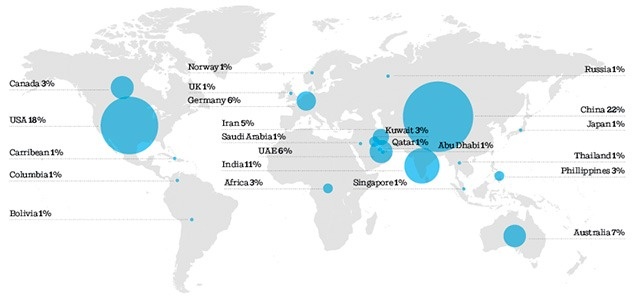 In which region(s) of the world are you finding it most difficult to recruit skilled architects?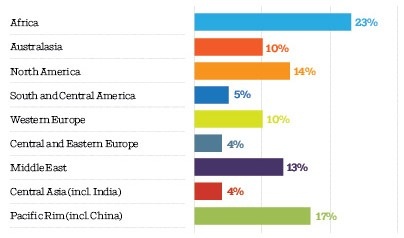 The Brexit Factor
What a difference a year makes. Last year, 14% of practices rated the UK as having growth prospects in 2016. This year, just one practice rates the UK as the country with the best growth prospects in the next 12 months.
This survey finding lays bare the extent of the loss of confidence in the UK's construction economy. BD also surveyed practices on the impact that the UK's withdrawal will have on work prospects in different markets. Nearly half (46%) of respondents said that Brexit would undermine work prospects in western Europe, a higher figure even than the 41% for the UK itself.
The region where Brexit is forecast to have the most positive impact is North America, where exactly half of respondents said that it would boost work prospects. In the Middle East and Pacific Rim by contrast, the vote will have little impact either way.
This finding rings true with Aedas' Keith Griffiths. "Britain is not a large country in the world economic perspective."
But he thinks that the swing also reflects an overly bullish and probably overly London-centric perspective last year. "The overall country has a fairly static economy, it hasn't been a vibrant economy for many years."
Most practices have yet to see much impact on their existing pipeline of work. Perkins+Wills' Pringle observes it is still early days in the Brexit process. "We are seeing a pick-up in the UK but we're only too conscious that it only needs another announcement for people to cancel their plans. We've got another two years of swerving about bumps in the road.",
Europe's Got Talent
While confidence is muted among major architectural practices about the world construction market's growth prospects, few are thinking about laying off talent.
Nearly half (47%) expect not to let go any architects during 2017, according to those who responded to the WA100 survey, which is down on last year's figure of 53%.
Of those planning to shed architects, the biggest proportion – just over a third – predict fewer than ten redundancies.
On the flipside, only 3% of the practices surveyed expect to recruit no one in the next 12 months, with 38% expecting to recruit 11 to 30 architects over this period.
Africa remains the region where practices have the most trouble recruiting skilled architects. Nearly a quarter (23%) of those surveyed reported headaches recruiting talent in the continent, with the Pacific Rim (17%) ranked as the second-most difficult region.
By contrast, only 4% cited central and eastern Europe as the hardest place to secure talent. The easiest place to recruit, according to the survey's respondents is western Europe (26%), which is being eyed by the likes of Bates Smart chief executive Simon Swanney, who says there remains a "real shortage of skilled architects" in Australia.
Lance Josal, chief executive of CallisonRTKL says recruitment remains a real concern for his firm, partly due to the drop-off in the number of graduates following the 2008 recession.
"Costs are increasing faster than fees, which reflects how this is becoming a much more competitive market. It means quality graduates are going to be harder to get."