How biophilic design brings in human benefits
Designer, writer and television presenter Oliver Heath says companies should be embracing a design approach that puts the wellbeing of office workers at its core
Until recently, energy efficiency was viewed as the key area in which businesses could both reduce their environmental impact and make big savings to improve their bottom line.
But a recent report by The World Green Business Council has revealed energy costs make up just 1% of typical business operating costs while staff costs in salaries and benefits are more than 90%. So it follows that by focusing on health and wellbeing of staff through the introduction of human-centred design and biophilic design business can reap far greater rewards to both staff and the environment.
At Human Spaces, we are gathering research and case studies which demonstrate that basing design propositions around the needs of the workforce and using biophilic design principles we can improve this vital element of any business to perform at its optimum.
According to a report by Human Spaces, the last 60 years have seen a huge migration to urban from non-urban areas in countries across Europe, the Middle East and Africa with 63% of office workers now working in urban areas. This has led to all-too-familiar nature-deprived working conditions, as the report details. In European offices, 42% of employees have no natural light, 55% don't have access to greenery and 7% have no windows. Ironically, the daily experience of these workers is a condition which many would feel is inhumane for the poultry they consume.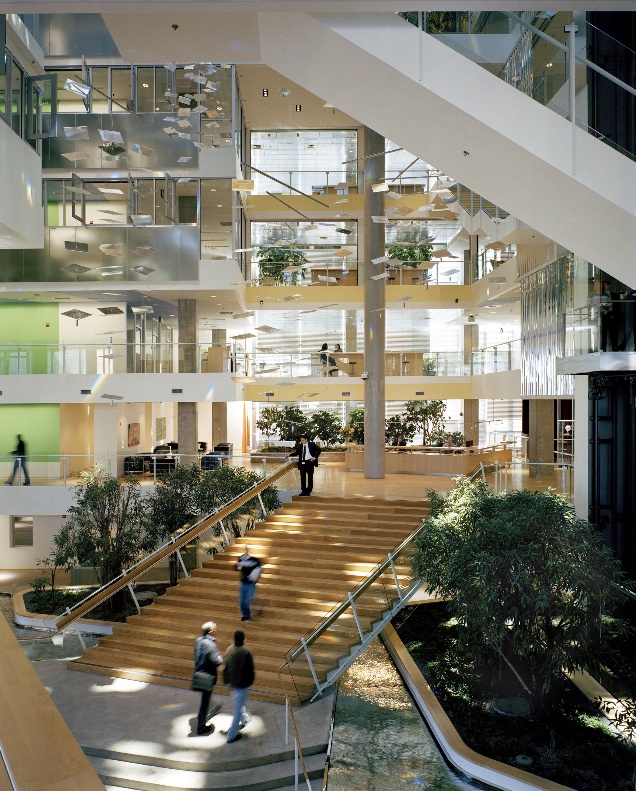 Source: Anton Grassl
When 30 years of psychological and physiological research proves there is a strong link between wellbeing and contact with natural living elements, it is not surprising that the report shows those offices with biophilic design elements report an impressive 13% higher level of wellbeing and demonstrate 8% greater productivity. These elements include access to natural light, views on to nature, natural textures, materials and colours plus recuperation spaces to restore mental and physical energy.
The Genzyme building at Cambridge in Massachusetts, US, by Behnisch Architekten is a fascinating example of biophilic office design with an atrium that runs through the entire building enabling light to flood in to reach a majority of desk spaces throughout the interior. A water feature at the base of the atrium and mirrored chandelier reflects pools of light around the interior, while carefully positioned greenery on balconies and glass facades allow a majority of staff views on to nature and natural settings – all features that lead staff to report an 88% greater perceived sense of wellbeing.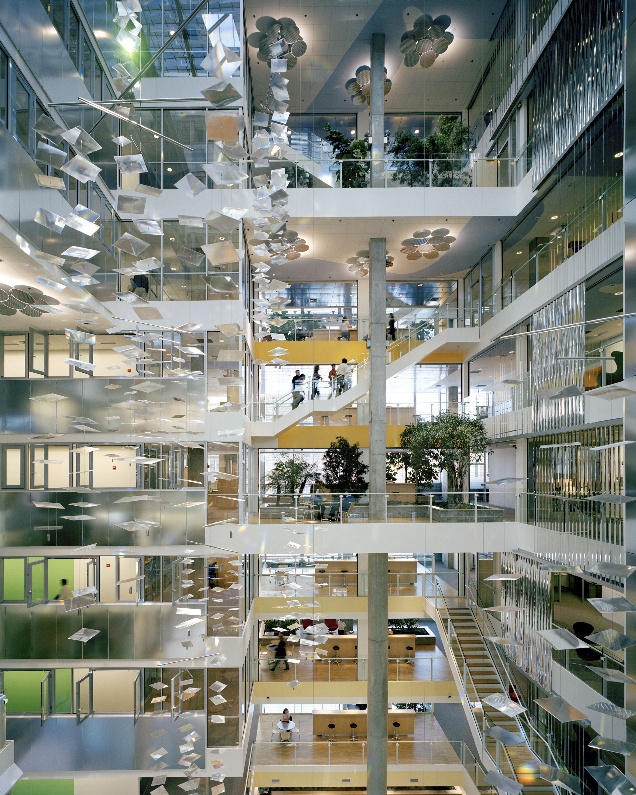 Source: Anton Grassl
Recently, we have seen those at the vanguard of business investing heavily in biophilic design with the likes of Apple's Campus 2 and Google's Dublin Campus seeing a move towards accommodating a "whole human" concept – the changing emotional, physical, social and cognitive needs of staff throughout the day.
This far more nuanced "human-centred" approach to office design offers a variety of spaces for:
·         private focus eg individual rooms with desk space
·         selective group focus eg meeting rooms
·         group focus and interactions eg open-plan with adjacent desks
·         chance interactions eg cafes, kitchenettes or water coolers
·         restoration eg rooftop gardens, courtyards or quiet spaces
Within each of these spaces, biophilic design can add an additional level of focus, productivity, engagement or cognitive restoration as the space requires through the inclusion of items such as natural light, materials, textures and references to nature.
Biophilic design is more than just an added extra but represents an essential aspect of the design of the modern office space. It's used as a means to attract staff in the war for talent and to retain them in the long term. The benefits are clear – creating more engaged, motivated staff who feel better while performing better throughout the day. In short, biophilic design offers benefits to businesses wanting to improve the triple bottom line of people, planet and profit.