This year's show places a strong emphasis on the environmental design of architecture in the spirit of sustainability
Spring Semester: An Encore for the summer wine
The Sustainable Theatre in Holmfirth
The project is set against the backdrop of the sleepy mill town of Holmfirth, near Huddersfield in the Holme Valley in Yorkshire, made famous by the tv series Last of the Summer Wine. The final project in the final undergraduate year sees students exploring ideas of the sustainable theatre. What makes a highly controlled artificial environment of the theatre become a sustainable space and what regenerates town and reinstate civic pride are issues addressed by the design output.
Beneath this screen of popular television interests, the town, a working community, has instigated an arts programme brimming with theatrical activities and civic performances personified by the various festivals in spring and summer months.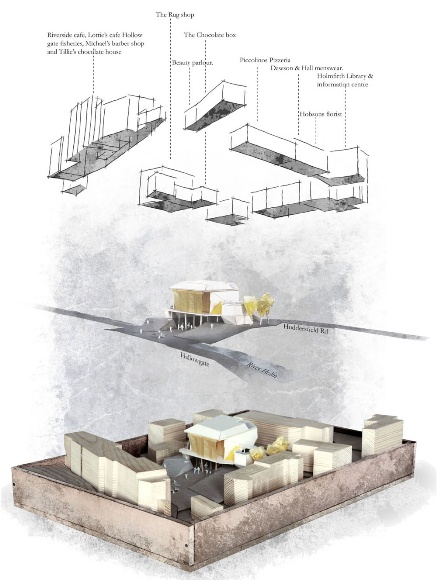 This project is an opportunity to regenerate and reinvent the town as a major arts venue, to revive and sustain the local economy and social infrastructure.
The medley of student proposals dealt with real issues of people, the community, with urban responses that presents a selection of theatrically evocative and speculative repertoire of what a sustainable theatre can be and can do for the town, to encore the naissance of a new theatrical venue.  
Autumn Semester: A Preface to New Environmentalism
The Community Library for Sheffield
which invites architectural authorship to an environmental library designs for a community reading facility in the socially and culturally diverse Sheffield residential district of Broomhall.
With the advent of new ways of information dissemination in our digital age, the library of today serves a very different role. They have ceased to act just as storage of knowledge, but have developed into a cultural facility of knowledge exchange, performing a social function. The library is accepted as a public facility with a cultural and social significance and representation, reaching out to communities and promoting interaction in the urban context of today.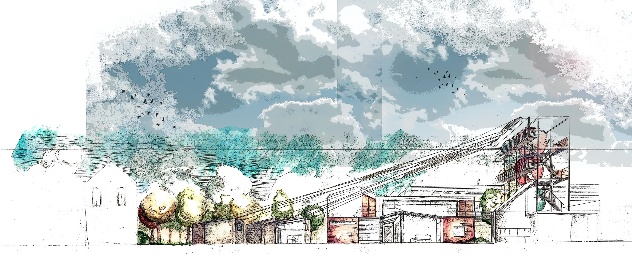 The exhibition is a catalogue of architectural responses to a brief that postulates the idea of a reading facility for the city and epilogues a new future for the dying public library.
The architecture show at Sheffield Hallam University is on until 28th June 2012.
Postscript:
All content in this article was provided by the university or course leaders. If you would like to see a gallery of your class's work featured on the site please ask your course leader or representative to contact Bdonline@ubm.com