This year's show is an innovative and unique exploration of the city of Venice.
The Clouds of Venice - A future Vision
This inventive and bold series of visions for the future of the city are presented in a new exhibition at the University of  Edinburgh. The show curates work carried out by Master of Architecture students and  offers a wide range of urban approaches towards the sinking city.
The exhibition is divided over two floors in Minto House. On the ground floor a  labyrinth of models are orchestrated showing a complexity of form, technical skill and theoretical ideas. Projects range from a film school that contains a sail-in cinema;  to a sorting house that is (re)constructed from a historical Venetian Palace.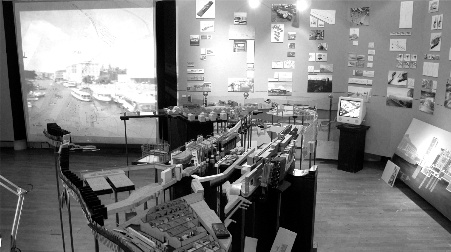 On the upper level, dozens of drawings hang from the ceiling, invoking images of a wash house. They show  an elaborate series of architectural and urban propositions. Several projects explore new interventions within the historical fabric, others are peripheral,  investigating the ecology of the lagoon.  From art galleries inhabiting historical city landmarks to an aqueous hospital stretching between island territories, all projects are finished with a high level of craft and attention to detail.
The exhibition is for creative professionals and takes place on the 22nd June 2012 in Minto House, 20 Chambers Street, Edinburgh.  Any interested parties are welcomed to attend the evening. The graduating students will be present to provide an overview of the projects.
Postscript:
All content in this article was provided by the university or course leaders. If you would like to see a gallery of your class's work featured on the site please ask your course leader or representative to contact Bdonline@ubm.com